Chocolate is a classic skate brand that skaters around the world would recognize. Around since 1994, this off-shoot of Girl skateboards has come into a brand all their own. The origin story is kind of funny: the Girl team was about to go on tour and skate around America. But when Chico Brenes showed up with his bags, he couldn't fit on the tour van. The team felt bad so they started an all-new brand with Brenes right at the forefront. After that, Chocolate was born. This brand hasn't quit in the twenty years since. It's an impressive legacy that continues to inspire skaters for it's long lasting commitment to skating culture.
Chocolate has always highlighted skaters from around the world, and often skaters of color. Their videos always have an eclectic soundtrack and a ton of amazing locals. It's no surprise skaters have enjoyed Chocolate for the last twenty years. Their iconic, cursive logo is easily picked out from the pack. Plus, their threads are just as cool looking as their decks. Really, you can't go wrong with a Chocolate deck. There's a reason they're called Chocolate, you know: it's because they're sweet.
We scoured the online reviews to find the best deck deals online. If you pick one of these decks, you're gonna get a good bang for your buck and you'll be skating in style.
Chocolate Skateboards Jerry Hsu Original Chunk Skateboard Deck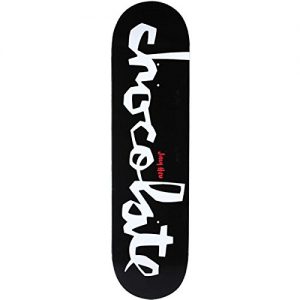 This Jerry Hsu deck is the classic Chocolate style, with a monochrome background overlaid with the Chocolate signature logo. Granted, the art on this deck is a little plain—but that's ok because you won't feel bad scratching it up! The Canadian Maple deck is so sturdy and reliable, you'll be able to do a wide range of tricks, street, vert, bowl or whatever you want. The deck is just a touch larger than standard so you will be riding with ease.  Jerry Hsu is a skating legend. He's been in all the Skate games because he's so iconically great at street skating. He only recently signed to Chocolate, in 2015, but he's still shredding hardcore out on the streets.
Chocolate Skateboards Elijah Berle Gravity Skateboard Deck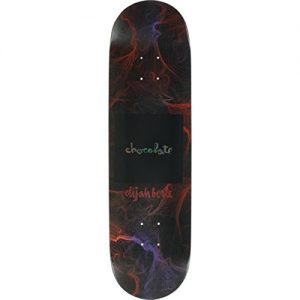 This deck sports the name of one of skating's gnarliest street skaters. Berle is so good at the 50-50 grind, you'd think he invented it. He skates all over the world and grinds rails that seem impossible. His Galaxy deck has some of the coolest graphics on Chocolate. The vibrant colors look like a vortex in the middle of the universe. It's such a rad deck you might want to hang it on your wall, but don't. Because this deck was designed for hardcore skaters. If you thrash around the city and wreck boards constantly, get this deck and you can skate it up to pulp. Elijah Berle is one of those crazy skaters who seems to have no fear. Perhaps some of his magic will rub off on you if you pick up his deck.
Chocolate Kenny Anderson Subtle Square Skateboard Deck


The Subtle series catchphrase is, "So subtle, it hurts" and that's the truth with this deck. Notice the art and how it looks like a binder colored over with highlighter. It's got a DIY charm that most decks don't capture. It's made of Canadian Maple and is sturdy and stands up to touch punishment.  Plus, it's one of Kenny Anderson's boards, so you know it's well balanced for grinds and riding the rails. Kenny's known for his incredible manual skills. He skated a deck a lot like this one in the Chocolate Chip video. Chocolate calls Kenny, "Your favorite skater's favorite skater" and there's some truth to that. People who know the sport realize that Kenny is a truly epic talent.
Conclusion
Chocolate is a brand that's going to be around for a long time in skateboarding. Their style and substance meld to be one brand that skaters won't stop representing. Plus, their commitment to representing diverse skaters in the sport by sponsoring riders from around the world is a noble commitment. Their roster of pros is inspiring. Some of their skaters are the best in the world. If you want a cool deck that's going to stand up to the punishment of street skating, check out Chocolate and get yourself a deck.