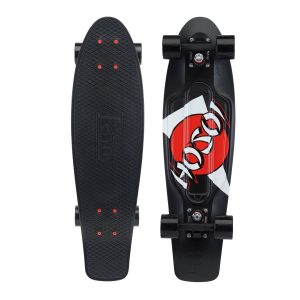 When it comes to excellent quality and intricate design, Hosoi penny boards are at the top of the food chain. Their products are made from high quality materials that get reflected in the performance of the skateboards. They are known for their powerful designs and strong durability, the perfect combination for both leisure and professional skateboarding.
Types of Hosoi Penny Boards
Most penny boards have a distinctive design wherein they either sport bright colors or plain neutral ones. But most of the time, they have a plain graphic design. What makes the Hosoi boards different from the rest is their carefully designed graphics. With the Hosoi penny board introduces a new wave of penny boards where they have a unique design depending on the model. Two of the models of the Hosoi line are the Christian Hosoi Signature Model and the Limited Edition 30th Anniversary model. Both models come in their own style and color palette, but they are both 27-inch-long plastic cruisers.
Christian Hosoi Signature Model
This 27-inch skateboard comes in a red tint with white stripes at the bottom of the board. Painted with its signature name, Hosoi, at the bottom, this product's design is based upon the rays of the sun symbolizing the rising sun of the Japanese flag. Powder-coated with a graphic wrap, its design is not only for aesthetics, but also for a dynamic look which is what the brand is all about. Some of the features that this penny board has include the following:
59mm 78A Penny Wheels in Sheer Black
High Tensile Bolts that are Color-coded
Penny Abec7 Bearings
Although it may be a bit pricey for most people, its design and durability more than makes up for its rather expensive value. The price tag on this penny board starts at $139.99 and it is available for purchase at their online shop. It may cost a lot more than a regular penny board, but it is worth every penny for its quality performance and dynamic design.
Limited Edition 30th Anniversary Model
Celebrating its 30th anniversary, the Hosoi penny board brand has chosen to release a limited-edition version of its 27-inch penny board at the same price as the Christian Hosoi Signature Model. With the red and white combination of the previous model, this penny board comes in a black and gold tint combination. It was designed and manufactured for purchase to commemorate skating as a professional sport.
As a collector's item, its special features really do attract anyone who finds out about them. Its wheels and bearings come in a 59mm 83A and Abec7 bearings both coming in a black hue. As most penny boards, it is designed to have maximum durability to combat one of the drawbacks of a regular skateboard, being prone to chipping.
With aluminum trucks in a black powder-coating, they are easy to ride but at the same time sturdy and highly durable. Its bolds are of high tensile deck just like the previous model mentioned earlier. Other specifications and features of this product are as follows:
Tensile Bolts that are color-coded
83A cushions that are also color-coded
Non-Slip deck in a waffle top design
4-inch trucks with a finish of powder-coating
A Manufacturing Warranty for one-year
With these two penny boards of the Hosoi brand available in the market, it sure is a great time to purchase quality penny boards. The Hosoi penny board brand has steadily become one of the leading skateboard distributors in the skateboarding world, despite the many brands putting out products one after the other. That makes it an even more desirable product to purchase, no matter the price tag.