Longboard decks typically fall between 33″ and 60″. Their shape and their length distinguish them from regular skateboards. Longboards are a great skateboard alternative for carving, cruising, freeriding, downhill, and slalom. Additionally, they are a choice if you have to get from A to B quickly for commuting.
There are numerous things that go into choosing a longboard deck. The model that you choose should fit the kind of longboarding you wish to do. For this reason, we've put together a short guide that will help you find the right longboard that will match your needs, as well as some of our favorite models of this year.
How to choose the right longboard deck
Since longboards aren't usually used for tricks, the lifetime of the majority of longboard decks is quite long. Preventing longboarding in the rain ensuring that you store your board in a safe place will prolong its life even farther.
Longboards decks can be made from a number of materials. We have listed some of the kinds here.
Bamboo
Bamboo skateboards are climbing in popularity. Bamboo is a bit more flexible than walnut and is wonderfully lightweight, making it ideal for both riding and carrying. Bamboo boards are perfect for carving, cruising transport, and the streets.
Carbon fiber
Carbon fiber boards are designed to help you move effortlessly around turns and push off the start line. Typically considered skateboards, you may see skaters riding carbon fiber boards all over the country.
Choosing a Longboard Deck Contour
There are many different shapes for a longboard deck, and each shape is created for a certain style of longboarding. Below is a general guide to help distinguish the different longboard types and their use.
Cruisers
This style of longboard is easily the most popular. Cruisers are relatively fast and maneuverable, and the increased weight distribution is given due to its massive deck size. This is a reliable and simple rig.
Downhill
You can reach very fast speeds when boarding, and wipeouts are par the course. Downhill skateboards tend to be flat and have wheelbases to provide for stability. When selecting a board that is a downhill model, it is crucial to choose a deck that doesn't flex and is stable at the fastest of speeds.
Our Top 5 Longboard Decks
Bamboo Pintail Deck

The Bamboo Pintail Deck is one of our favorite picks for a bamboo longboard. This lightweight deck will see you effortlessly maneuvering through the streets and parks with ease, which is thanks to its flexible frame.
The board measures at 44" x 10", making it an ideal size and weight for a bamboo longboard.
This model has attracted a wealth of positive reviews since it was released a few years ago, and continues to be a bestseller across the Amazon platform.
Freeride Cruiser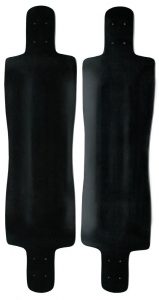 For those of you who prefer a concave look and feel, there is the Freeride Cruiser option. The concave shape at both ends allows for an increased amount of control and speed, as well as making it easier to handle in tight spots.
As the board has a slightly shorter width, the board can be moved around and stored without any issues, although the the drop down concave board isn't much lighter than others in the market.
What we liked the most about this drop down model is how easy it is to use, and the adjusted width and length is definitely a nice touch.
Sector 9 A.V.E.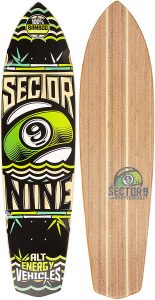 The A.V.E Deck from Sector 9 is perhaps the best looking of all the decks that we have examined as part of this list. The deck is made from 5 ply vertically laminated bamboo and Vector 9's classic 80's mold.
The included kicktail will have you up and running with the board in no time, as well as providing some much needed utility and ease of use to the deck's design. You'll also get Sector 9's Pro III trucks and some new 61mm wheels.
You should choose the A.V.E deck if your priority is to have a board that looks great and is simple and easy to use.
SCSK8 40″ Bamboo Deck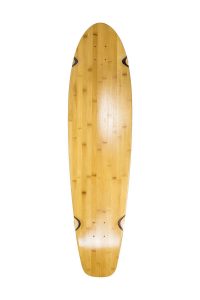 Unlike other bamboo longboards that have been introduced to the market, the SCSK8 does not suffer from the annoying flex and instability that plague other bamboo models.
This particular model is made from 3 ply wood, thus providing a considerable level of reinforcement to keep the board stable when riding over rough terrain.
One unfortunate exclusion as part of the SCSK8 design (and that of the majority of long boards) is the lack of grip tape. For this reason, you'll need to apply a generous amount of tape around the board's service for this model and that of others.
TGM Skateboards Bamboo Kicktail Deck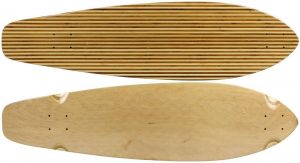 For those who prefer the inlay striped look, there is this longboard. This model is also one of the longest boards that can be found on Amazon.
The presence of a few extra pounds and inches part of the deck's design means you'll pick more speed when traversing steep hills. This also makes it suited for the more experienced riders, as newbies might find it a bit difficult to handle as their first board.
But for people who have been longboarding for years, an extra bit of length is a welcome addition, especially since it will give you some added stability and control once you become accustomed to it.
Summary
The best way knowing which model is going to work best for you when it comes to longboards is by giving one a try for yourself. Nothing can compare to the experience of skating around town or in a park to know for sure.
Besides actually buying and using one of the boards above, your next best step would be to get the feedback from other satisfied users of the deck you are interested in, which can be accomplished via the Amazon platform