Grizzly is a company known primarily for its grip tape. It's some of the best you can buy, with a strong, thick grip that's often got a cool design right in the middle. It's this commitment to style meets performance that sets Grizzly apart from other brands. When Grizzly started carving their own decks, things went to the next level. Now, the same integrity found in Grizzly grip tape is emblazoned upon the Grizzly decks young skaters are riding at parks across the world.
Torey Pudwill is the founder of Grizzly. This young, street skater started Grizzly accidentally in his mom's house when he was 14, making the iconic Grizzly logo from a cooking mold. Now, it's an established skating brand, distributed by Diamond Supply Company (the same folks behind Diamond footwear). Now, Grizzly is a brand respected by skaters that's even been repped by Lil Wayne. Whether it's their high quality decks, cool design, or stylish clothing, Grizzly has made a splash throughout the skating industry.
We scoured the reviews to find the best Grizzly decks and we've got a hot Top Three to tell you which decks you gotta check out. If you skate these decks you'll be flying around in the air for sure.
Grizzly Cloud Mountain Grey Skateboard Deck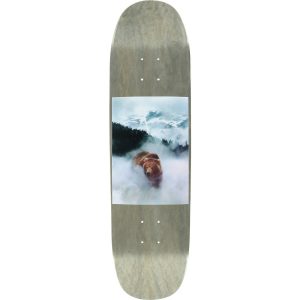 Here's what sets Grizzly decks apart from other brands: they maintain the wood finish of the deck and remind you where the skateboard really comes from. That is, Canadian maple trees. You see the highly-detailed photo of a grizzly in the center of the deck, surrounded by dyed-grey maple that offsets the picture. It's a deck that looks really tight and skates even tighter. This one is 8.37 x 32, giving you that third of an inch extra on the width. You can skate street with it just like Torey Pudwill. With plenty of pop and a solid, wobble-free construction, this deck is one of Grizzly's best. If you skate Grizzly, you'll no doubt want to check out this deck.
Grizzly Skies Natural Skateboard Deck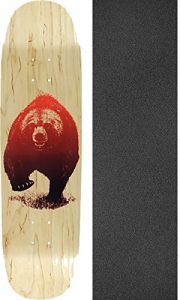 This Grizzly deck has a graphic that sums up the Grizzly aesthetic: bold, vibrant colors, thatched, pen-line illustration and a look toward nature. There's a reason Grizzly's named after nature's most brutal bear. This deck is tough. With the blood-orange bear in the middle of the graphic, you'll be shredding up rails and curbs like crazy—and the glossy, maple finish provides the perfect offset for the graphic. Grizzly evokes a cool juxtaposition with its art. You're skating in ostensibly urban environments, but the art on the decks is calling back to nature. It's almost deep, in a way. This one is perfect for street or vert, even just cruising around town. Then again, with art this nice, maybe you'll just want to hang it on your wall.
Habitat Skateboards Grizzly Logo Skateboard Deck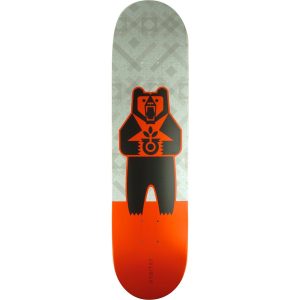 Now this deck is a little different from the others on our list in that it's a collaboration between Habitat and Grizzly. It's sporting the Grizzly logo, but it's also got the Habitat manufacturing that skaters know and trust. Plus, you get the gnarly color scheme and the bold, screaming grizzly on the middle of the deck. It's made of Canadian Maple and skates like a dream. This is a great deck for vert skating if you like cruising on the halfpipes or dropping into a bowl. It's the type of board you can ride for the pop because this one is a guaranteed to turn heads when you come grinding down a staircase. Habitat and Grizzly is like chocolate and peanut butter, a match made in heaven, so get this deck while it's still available.
Conclusion
Grizzly decks are somewhat new on the skating scene but they're developing the reputation as being a solid choice for skaters both street and vert. Even if you already have a deck, you could benefit from some Grizzly grip tape, which is truly some of the best available. Grizzly is true DIY. Pudwell has said in interviews that he never meant to even start a brand, but when DVS approached him he thought the offer was too good to pass up. There's a reason people are obsessed with this brand and it's because Grizzly pushes skating to the limit with their expertly manufactured gear that pros and amateurs love representing on the street and at the park.