So it's time to replace the deck of your skateboard. The wheels and trucks are all still in good working condition but the deck is showing signs of a lot of thrills and even more spills, but what to get? Some decks have the coolest graphics and it's real tempting to go with one of those, or you might want the same branded deck your favorite pro skater has. But there's more to it than that if you want the best skateboard deck.
If you think about it, your deck plays a massive role in the amount of pop you get off an ollie, the way the road feels and how long your skateboard is going to last. It is, hands down, the most important part of a skateboard, and depending on what you're looking for, the most expensive. Standard boards are made from 7 layers of plywood that are glued together, and measure between 7.25" to 9" in width and 28" to 33" long.
When it comes to decks it's not a case of one size fits all, and you definitely shouldn't be choosing one based purely on what it looks like. Skateboard decks are almost as individual as you are, and you need to consider your weight, the size of your shoes, skate style and of course how much you want to spend. If your favorite pro skateboarder has a deck out on the market,  you might want to support him, but still, make sure you get one that works for you. Last thing you want to do is look like a poser with an expensive board but no clue what to do with it.
Whether you're buying one off the shelf or plan on building your own, here are a few tips to help you choose the best deck.
Skateboard Deck Buying Guide
Choice is great. It's also a pain when you're not sure exactly what you're looking for, so we've listed a few things you need to consider:
Deck's Width
Unfortunately, in the world of skating, there are a couple of trade-offs between the type of skateboarding you want to do and the width of the deck. More technical street skating with lots of tricks is better with a narrower board, but a narrower board is harder to land because of the smaller surface area. A narrower board is also good if you are planning to use it for general transport as it's easier to maneuver around and carry under your arm.
A wider board, on the other hand, is better for bigger guys and it's also suited to those who want to use it as a means of transport. When it comes to the width of the skateboard they generally range between 7.25 – 8.5", with the most popular being 7.25", 7.75" and 8.0".
Skateboarding is an extreme sport, which means pros are always pushing the limits and trying new things. What this means is that you'll probably see experienced skaters doing gnarly tricks on wider decks.
Deck's Length
The average skateboard length is pretty standard, ranging between 28-inches and 33-inches. Unless you're looking for a longboard, which measures around 50", or a mini cruiser that comes in at 22-inches.
The Concave of a Deck
When we talk about the concave of a deck we mean how much the board dips down in the middle, or how curved it is. A board that is flat is susceptible to breaking and it's not great if you want to do flip tricks.
Steep concaved decks are sturdy and designed for tricks because the slope catches on your toe or heel more easily and flips the board. A shallower curve is better if you plan on staying on terra firma and want to cruise around. While these are recommendations and suggestions, it's still best to try out a few and see what you prefer. If you're new to skateboarding and aren't sure then the best bet is choosing a deck with moderate curve, and you can decide from there.
Deck Material
Decks aren't just made of wood. There are different materials used to make decks, from Canadian Maple to carbon fiber and maple.
Canadian maple wood is the most popular material for decks, but it costs more and you'll generally find the higher end and pro decks are made of this. If a deck reads 'maple' then it probably means the deck has been manufactured in China. The wood will be a little softer and the quality not as good, but we find the difference is small and sometimes the cheaper option isn't the worst one, especially if you're just starting out or if you find you go through decks pretty quickly, regardless of what they're made out of.
A more recent material used for decks is bamboo.They're lighter and stronger than Canadian maple and maple; they are sustainable and have extra pop. It might be worth checking out if you're looking for a lighter deck than what is currently available.
Like bamboo, carbon fiber decks are more recent than wooden ones. Boards are made either using carbon fiber entirely or together with some other material. The advantage to these decks is they last longer than normal wood and don't chip or break as easily, but they do feel stiffer than boards made with wood or bamboo.
In terms of the price tag, these cost more but they do last longer and if you're a little too enthusiastic and break boards quicker than a grandmaster at a taekwondo tournament you'll like that the carbon fiber decks come with a warranty.
Pro Decks
Pro decks are made by well-known skateboard manufacturers and are usually specific to a specific team or skater. It goes without saying that the endorsement means they cost more, but if you're a huge fan then the consolation is some of the money made goes to the pro skater. Pro boards are usually always made using Canadian maple and are the most commonly purchased decks.
Blank Decks
If you're not concerned about branded products and don't want to spend a fortune on a pro deck you can opt for a blank board. Often, in terms of quality, they're the same as, if not better than branded ones but aren't as expensive. They're perfect for skaters who go through decks quickly and are available in bulk packs of 3, 5 or 10.
Top 6 Skateboard Decks 
Now you know what to look for when you're buying a skateboarding deck, let's check out our top 6 decks. We've compiled this list from some of the best skateboard deck brands out there.
Element Quadrant #14 Skateboard Deck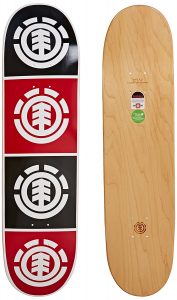 Element is one of those brands that has never lost its appeal to skaters everywhere for generations. The brand started as a skateboard company way back in 1992 by founder Johnny Schillereff and continues to be one of the most recommended brands of skateboard decks that everyone can appreciate.
One of the hot sellers right now for those who want to skate out in style is the Element Quadrant #14 Skateboard Deck.
The board features an impressive design that is central to the Element aesthetic, with attractive red and black logos on a glossy finish. The durable Thriftwood construction means that it's guaranteed to stay flat even under heavy use, and won't bend or warp unlike cheaper boards.
The Quadrant's specifications are as follows:
Size 8″ X 31.75″
Board Nose 7″
Tail 6.375″
Wheel Base 14.25″
Judging by the above dimensions, any skater will tell you that Element's Quadrant deck will put you good stead to perform a variety of tricks, without fears of wiping out thrashing it when you're pushing it to its limits.
There are a lot of good things to say about this deck, but what we liked most was the inclusion of its Thriftwood Technology. This piece of tech means that the board will travel longer than its competitors, lowers its price, and makes for an all-round better board for a small amount of money.
Birdhouse Skateboards Walker Monkey Deck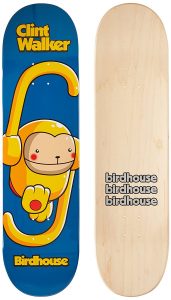 Birdhouse is the brand that comes from legendary skater Tony Hawk. To follow with his worldwide fame, Tony has ensured that his decks are top quality yet still affordable for use by skaters young and old.
A great thing about the boards offered by Birdhouse is the inclusion of its Black 6 technology. This means that all of the boards sold have sixth layer to their designs that helps to add pop and help with flicks.
Tony Hawk has put out numerous boards over the years that have gone on to achieve worldwide acclaim, but his Walker Monkey Deck so far has taken the cake.
Although this deck might be a little more expensive than what skaters would expect to pay, anyone who uses it for any amount of time will quickly see that it's well worth the price tag.
This particular deck comes with Canadian maple, which is widely considered to be the gold standard when it comes to wooden boards in general. The fun Clint Walker design only makes even more appealing, thus providing a novel and interesting way to skate around.
The Walker Monkey deck has the following specs:
6″x8.5″x32 inch dimensions
Weighs in at 3 pounds when shipped
Powell Peralta Roach Grey Skateboard Deck


If you know anything about skateboarding you'll know Powell Peralta is a leader in the industry. Established in 1978, the brand featured the Bones Brigade, a team that included some of best pro skateboarders including Steve Caballero, Alan Gelfand, Kevin Harris and Tony Hawk.
Suited to beginners and pros, the deck is built using Ligament™ Technology, which means the deck comes with a wider, more robust polymeric strap, that will hold the board together if it breaks. It's designed to give you more pop and stiffer, longer-lasting flex for a more durable board. Made from hard rock maple, the seven plies or layers, are laminated with a high strength water resistant glue.
The Powell Peralta Roach Deck is perfect for street, pool, park and vert, and comes highly recommended.
Blind 10011540 Blacklight Deck


The skateboard decks from Blind are good quality and feature a few technologies that make them stand out from their competitors. You can choose from an 8-ply board, a 7-ply board, as well as some decks that have a vertically laminated core or those that have aluminium and epoxy glass inside.
The Blind aesthetic is defined by its dark, edgy, violent, and death-filled graphics and stable board construction.
The Blind 10011540 Blacklight Deck has a quality resin construction with 7-ply North American maple. Unlike other decks in the market, the resin is guaranteed to not degrade as quickly as quickly as the industry-standard water based glue. Also, the precise board construction will not warp or bend under harsh conditions.
Alien Workshop Visitor Skateboard Deck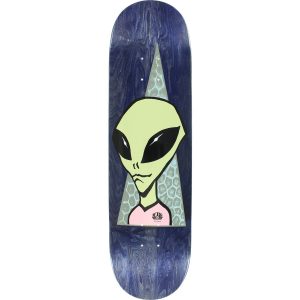 Alien Workshop creates incredibly artistic and unique skate deck designs. In addition to making the usual 7-ply skateboards, Alien Workshop also produces corrugated technology decks, and "Nice Price" decks that contain less link so they can be sold for cheaper.
This particular deck from Alien Workshop features an 8″ deck width and does include a grip tape.
Bamboo Skateboards Blank Skateboard Deck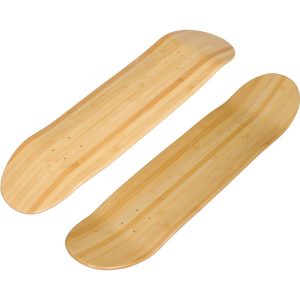 Decks with a conscience, the bamboo deck from Bamboo Skateboards combines pop, strength and sustainability, and while this particular one is blank they do have a range of decks with very cool graphics.
The bamboo board is environmentally friendly, unbelievably strong and the pop you get is amazing. It's also light, weighing just over 2lbs, which means if you're keen on flicks and tricks, this is the deck for you.  Available in different sizes, from 7"x28" to 8.75"x32.25", you can decide if you want a shorter board for tricks and easy maneuverability or if you prefer, you can get the 8" by 32″ for serious cruising.
The Bamboo Skateboards Blank Skateboard Deck was named best skateboard deck for 2016 by various skateboard magazines, and once you give it a test run you'll understand why.
Summary
Skateboarding is one of those sports that has never lost its appeal. First invented in California, it was a way to pass the time if surfing conditions weren't favorable. Almost 50 years later there are over 100 million skateboarders, making it one of the most popular hobbies around the world.
Skateboarding defies all barriers: from language and color, to religion and social standing and best of all, where there's a staircase or a wide open area, there's skating to be done. While it is considered an extreme sport, it's fairly safe and is a great way to get exercise while tearing up the sidewalks.
Hopefully, our buying guide and deck recommendations will stand you in good stead when you're out buying yours, and while we know it's not a definitive list, it'll steer you in the right direction. What we can guarantee is that we're not affiliated with a particular brand, so our reviews are based purely on the quality and price of the product. We have included decks to suit all budgets and styles, and the reviews should give you something to think about too.
Also, even if you plan to purchase online, it's a good idea to but we still suggest you try out a few for yourself, to get a feel for what you're after.
We'll catch you on the flipside!