Penny Boards are now a favored option for those who want to try out skateboarding in today's world. The penny boards have made an undoubted impact on the industry as a whole, which is thanks to their small sizes, convenience, low weight and durability. Although the Penny Boards are categorized by their user-friendly and simplistic design, shoppers can find the decks in a range of different colors and styles.
The Eightbit 22 inch Penny Board is by far the company's most popular option. The deck comes with a host of bright and interesting colors, with some even being able to glow in the dark with the right conditions. Yet aside from its award winning design, what makes the boards great are its safety features.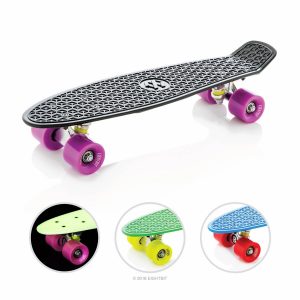 Safety features of the Eightbit Penny Boards
This company produces skateboards that have an emphasis on safety and ease of use. Despite the more cautionary nature of the brand itself, it is the prime reason for why skaters keep coming back to Eightbit time and and time again.
Using a Penny Board by Eightbit might not be a physically demanding activity, but due to the popularity and dangers of skating, more people now than ever are experiencing massive spills and accidents, which is where the Eightbit brand has taken hold to satisfy this need for the masses.
Mouth youths (and especially those who are new to skating) are inevitably going to get injured as par the course when it comes to skating around. It could even be said that some will get into accidents because they chose a penny board, yet there are numerous safety measures put in place to prevent this from happening.
In order to produce Penny Boards that are both safe and easy to use, each feature of boards offered by Eightbit have been designed with the user's well-being in mind.
Grip
Anyone who has stood on top of a long board will tell you that keeping your balance can be a tall order. Now imagine what it's like to keep your balance on a penny board that has a significantly smaller frame and much lighter mass. The reason why this can be a problem comes down to the tradeoff between speed, weight, and stability. The faster you go on a small board, the more you're going to feel every wobble and bump along the road, which can lead to accidents.
So to make up for the board's smaller frame, Eightbit has compensated with extra grip placed all over the Penny Board's surface. There are also additional ridges placed around the curvature board for enhanced security and peace of mind.
Flexibility
The material that a board is made from is also going to affect its stability in a big way. The Eightbit Penny Boards feature plastic decks that is both sturdy and flexible. The reinforced plastic absorbs all the little bumps you'd normally feel when skating over rough surfaces. Its high quality materials will also last you longer than other skateboards.
Stability
The great thing about the Eightbit Penny Board is its trucks. They're wider than other brands, which afford more stability and control for both novice and experienced skaters alike. The issue with narrower trucks is that they sometimes make it hard to turn the board or keep it stable whilst travelling at high speeds.
Summary
To date, there has been a wealth of great penny boards released under the umbrella of Eightbit, and it's easy to understand why skaters keep coming back for more. Eightbit is one of the market leaders when it comes to skating gear in general, and their penny boards are a continuation of their success.
Eightbit has been successful in addressing a key issue that other companies have not been able to fix: if a skateboard is not stable or safe to use, then it's probably not worth buying. With the new range of penny boards, you'll no longer have to worry if your kids will hurt themselves while learning to skate. And unlike other boards that have been developed for novices, the skater can grow their skills with the board without being held back.
It's hard to say for certain of the penny boards are here to stay, or if this is simply a passing fad like many other products before them. But what we can say is that shoppers are finally getting what they have been asking for: a safe and reliable board that can be bought at discount prices.
And only time will tell if these boards will make a permanent shift in the skating industry.