Girl Skateboards is a classic skating brand established in 1993. Everybody's seen someone sporting a deck with their trademark bathroom Girl icon. You might remember the first time you saw a Girl deck: "is that the little Girl cartoon from the bathrooms?" It's kind of funny how the little sign you see in front of a public restroom is responsible for spawning so much of Girl's aesthetic.
That's what makes Girl so iconic. Their decks always have a flare and style that isn't replicated by every board company.  A lot of skaters may have first heard of Girl from their great videos like Yeah! Right, Hot Chocolate, Fully Fared and Pretty Sweet. Filmmaker, Spike Jonze (Her, Being John Malkovich) got his start directing Yeah! Right and its a skate film that's still remembered fondly today. It's got a great soundtrack, funny skits and, most importantly, killer tricks and visuals. This tape is another reason people love Girl skateboards so much. Girl cares about the visual aesthetic of their company and founder, Mike Carrolll, was one of the pioneers as the skate video as art phenomena in the 1990s. If you like skate vids like The DC Video, cherry, or Stay Gold, all these owe a debt to the videos Mike Carroll was a part of in the 90s. After the Girl videos came out, skate movies started getting a much bigger budget and attracting way bigger audiences.
Girl has a roster of skating all-time greats, like Jerry Hsu, Raven Tershy, Vincent Alvarez, Chris Roberts, Kenny Anderson, Stevie Perez, Marc Johnson, Chico Brenes, Jesus Fernandez, Justin Eldridge, Elijah Berle and Keenan Milton. Ironically, no actual girls have ever been members of the Girl skate team. But all the Girl skaters possess a certain style that fits into the detached, ironic aesthetic of Girl skateboards.
We searched through the many deck models Girl has printed over the years and found some of our favorite. These decks rule: you can skate street, vert, or just use them for getting around town. Girl decks are said to have a lot of pop when you ollie, so if you want to get up high in the sky, get yourself a nice Girl. Check out these three decks and you'll certainly be satisfied.
Girl Skateboards Mike Carroll 93 Till Infinity Complete Skateboard

This Mike Carroll deck uses the classic, beloved design that Girl is famous for. You see the Girl logo in red, on a white rectangle framed on a black background. Simple, elegant, totally cool. Mike Carroll is one of the best skaters on the Girl team, and he's also the co-founder of Girl skateboards. Carroll was one of the best street skaters during the 90s, so you know he takes pains to make sure the decks that he manufactures—let alone, the ones with his name on them—have the durability, speed, and precision needed for doing the complicated footwork required for street skating. Users say this board is tops for doing 50-50 grinds because of how balanced and sturdy the board is.
Girl Mike Carroll Hella Kitty Complete Skateboard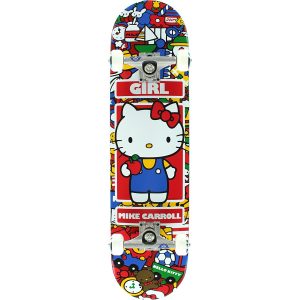 Another Mike Carroll board, this one has Hello Kitty plastered right in the middle of it. If you show up to the skatepark with Hello Kitty on your board you know the other boarders are gonna be talking about it. This board has attitude. The pastel colors make it look like a toy, but fear not, this is a board for professional riders. If you're skating vert, people say this board is great for it's extra inches in length and extra quarter inch of width. You'll be able to take sharp turns and ride the pipe for any length of time. Riders also say this board is great for grinding because it's got the trademark balance of a Girl deck.
Girl Skateboards Mike Mo Capaldi Sanrio Gudatama Complete Skateboard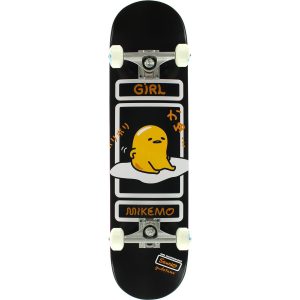 Girl loves putting cute anime characters on their decks and Mike Mo's Gudatama board is no exception. Do you know Gudatama? He's a little egg yolk that is very lazy. He also happens to be on one of the best Girl decks manufactured in the last few years. Mike Mo is an amazing skater, and his goofy foot 360 flip from the Berrics video is legend. Go watch the video right now if you haven't already seen it—and if you have seen it, watch it again. If you want to skate vert like a pro, you need a pro deck. Skaters seem like they can't get enough of Mike Mo's decks, and his Gudatama deck is praised for its balance, weight, and consistency.
Conclusion
Girl skateboards are always printing cool new decks. They're a member of the Cailtrap distribution company, which also sells Chocolate Skateboards, Royal Skateboard Trucks, Ruby Republic Shoes and Fourstar Clothing. In interviews, when Mike Caroll was asked why he thinks Girl has stuck around for so long, he describes the reason for their staying power pretty simply. Since the company is owned by skateboarders, they invest themselves in the company. They care about Girl, which in turn makes the skateboarding community at large care about Girl. This is what makes them one of the longest lasting California deck companies in the industry.
Girl makes decks that are perfect for vert, pool, park or street skating. If you want a board that has a lot of pop and gets you high in the air, get a Girl. Or, if you want a deck that doesn't break after countless grinding and tricks against the asphalt, get a Girl. And if you just want a deck that looks cool—either with popular anime characters, a unique aesthetic not replicated by any other deck manufacturer, or something simple and recognizable like the Girl logo… Well, get a Girl!