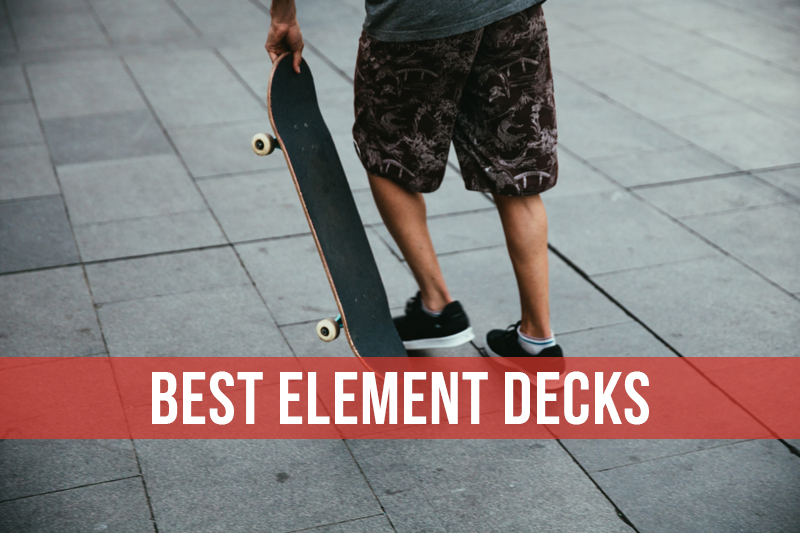 Thinking of getting an Element skateboard deck but don't know if it will be a worthwhile purchase?
Well in this post we will go over several features, material quality, and a bit of background info on this brand. Here is a brief overview of the skateboard decks we will be checking out:
Best Element Decks – An In Depth Review
If you are into skateboarding, then you have probably heard of Element before. This is a brand that was established back in 1992, and for over 27 years they've been on the vanguard of skating culture ever since. A truly global brand, Element is committed to making some of the best decks with the cleanest aesthetic around.
There are three things that set Element apart from other brands: The clean aesthetic of red, black and white mixed with the tree logo, the eco-friendly mindset that Element is based on, and the commitment to bettering the sport of skateboarding.
A lot of Element's graphics are subtle, but they're always bold. Plus, they're made with a commitment to honoring the wood and turning it into a skateboard that's built to last. There's a reason Element has a tree for their logo.
Element makes their boards with the highest quality trees available, and they're committed to replanting the trees they harvest so the eco-system can be replenished. Not every skateboard company can claim to stand for something "bigger" than the sport. Yet, it fits so naturally that Element is concerned with green business practices since they're entire aesthetic is inspired by the beauty of nature.
We did our research and have chosen our top 3 Element boards & listed them below. You will find that these decks are fast, sturdy and have a sharp graphic that will look amazing when you're airborne. So if you're in the market for the best element skateboard decks, you're sure to get a solid purchase if you check out these 3:
#1 – Element Section Skateboard Deck
The Element Section uses the classic Element design to produce a quality board that looks cool and functions great. It's a great starter deck, but it's also the same deck a pro can skate. The Section decks were especially popular among the U.S. Element sponsored team. If you want a board that has the classic Element aesthetic, the Section is perfect. The deck is a standard 7.75'' wide, and 31.5 inches long. It's a lightweight board that has a lot of pop and is perfect for skating vert or street. The graphic calls to mind the four elements, Water, Earth, Wind and Fire. You can be sure that the Section is made with the same quality of all Element decks.
If you decide to purchase the complete skateboard bundle, you'll get the complete board with all the components including: 2 Essentials polished trucks, 52mm white wheels combo, standard phillips head black hardware, 2 shock pads, & a Jessup WS Die Cut grip tape. This is a great deal for a quality deck since you get everything you need to start skating right when the package arrives at your house. Assembly is required, but everything is fairly straightforward. 
#2 – Element Quadrant Deck
The Element Quadrant foregoes the Element brand name and instead has four Element Tree logos, hence the name, Quadrant. The iconic Tree logo is integral to the Element brand. They use the finest quality of wood to craft their boards and in some ways the tree logo is a sigil, supporting the better care of it's environment. Because Element is committed to using the best wood, they end up making some of the best decks in the industry.
The Element Quadrant features thriftwood construction technology for improved durability. The board is 8″ x 31.75″, and has a board nose of 7″. The tail is 6.375″ and the wheel base is 14.25″. Overall, this is an excellent deck that will last for a long time. The printed design is of high quality as well, and is able to resist tricks with only minor scratches to the artwork.
#3 – Element Bam Margera Heartagram Skateboard
Finally, we have the Element Heartagram deck. This is one of Bam Margera's decks, who is perhaps one of the most famous skaters on the Element brand. His show, Viva La Bam, raised the profile of Element and sent them into the mainstream. One of Bam's obsessions is the band Him and this board has the Him logo on it displayed prominently. Something you'll notice that's the same with both the Element logo and the Him logo is the simplicity of the designs. Many old school skaters will remember these logos being etched into notebooks, school desks, and drawn on backpack with sharpie.
This deck can also be purchased as a complete bundle. It comes with premium components such as: Mini Logo Raw trucks, 53 mm 101a A-Cut Wheels, black phillips heads, Crosshair Soft 80a black shock pads, and a Jessup WS Die-cut black griptape (9″ x 33″). A great skateboard bundle deal, and cheaper than having to purchase each component separately. 
Conclusion
Element is an essential brand for the culture of skating. Every skater knows the iconic tree logo, because Element makes a top quality board with the best materials possible. They also have skaters from all over the world on their teams. There's an Element team for the U.S., Europe and Australia. It makes sense for the Element brand to be concerned about skating globally, because saving the planet is one of the stated missions of Element skateboards.
All these reasons are why so many skaters have chosen to skate Element for the past 27+ years. First, they make really solid decks out of the best quality wood available. Second, they have a clean, recognizable aesthetic of red, white and black—plus the iconic tree logo. Finally, the durability of their products is well known due to their advanced thrift wood construction. A high quality technology that improves the durability and strength of the wood, while keeping production costs low. Which means more affordability for you, and a product that is built to last. 
We hope you enjoyed our Element skateboards review. Have any questions or would like to share your thoughts on a recent experience with these decks? Send us a message!