| Board | Length | Board Material | Price |
| --- | --- | --- | --- |
| Quest Bamboo Super Cruiser | 44" | Bamboo, Maple | |
| Atom Pin Tail | 39" | Maple | |
| Yocaher Professional Speed Drop | 25" | Aluminum, Maple | |
| Atom Drop Deck | 63" | Maple, Urethrane | |
| Sector 9 Blue Wave | 42" | Bamboo, Steel | |
Are you new to longboarding? Are you looking for the best ride of your life? If so, it's time to invest in the perfect longboard to achieve your skating dreams. It is often quite different from traditional skateboarding in terms of cruising ability and travel, with a lot of benefits to accommodate your riding style.
Learning about the right kind of trucks, wheels, decks, and bearings can be overwhelming. Especially if you're just starting out. But after you've developed a taste for your longboarding style, the rest will come naturally. Check out our top 5 picks for the best longboards, and you'll be able to quickly tell what separates the good from the bad.
After reviewing the best 5 longboards, you can check out the best tips and tricks for buying the longboard of your dreams. How do you want your board to be set up? Are you interested in downhill riding and achieving high speeds? Or maybe you want more of a cruising style to go long distances? No matter the setup, there are ways to achieve the perfect longboard. You'll be able to collaborate with the experts in no time.
A lot of longboard retailers online and in person may not have all the facts. It can be tiring and frustrating to try and deal with someone who isn't aware of different longboard setups and the parts required to make a solid build. Try asking your neighbor about longboards, for example. If they aren't enthused about this leisurely sport, you may be met with a confused expression. By chalking it up to the experts, you can really learn how to buy a longboard like a pro.
The Top 5 Best Longboards
A quick look at the top 5 choices for longboards this year can give you an idea of what to expect on the market. These boards offer a range of affordability and flexibility, giving the best overall value. Don't settle for something second-rate; when it comes to longboards, you want to make sure you really have the best to prevent injury or quick breakage. Invest in something that will last for years, allowing you to see some major carving without wearing out your wheels or trucks.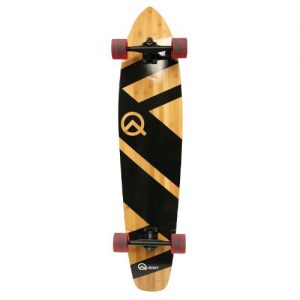 Quest is a reliable skateboard brand that always focuses on delivering a balance of affordability and durability through a variety of boards. With the 44" Bamboo Super Cruiser, it's the size that really matters with this one. It's a great pick, both for beginners and for those who are looking to improve their style or tweak their setup.
Don't settle for a knockoff. This longboard is the original bamboo longboard, made from hardwood maple and bamboo for a combination of smoothness and efficiency. A lot of similar boards are used with faux woods, so you'll want to avoid those. The difference between this new product by Bamboo and similar knockoff brands is in the sleekness and value of the deck.
Bamboo uses all-natural and authentic parts to build their longboards. The Bamboo Super Cruiser Longboard, measuring at just 44" on the deck, is made with aluminum trucks, genuine bearings, and super flexible woods for a great performance piece.
Are you someone who wants to own original, hand-made pieces? If YES, then you'll be quite impressed with the Quest 44" Bamboo Super Cruiser Longboard. This is because not all longboards are made the same (another quality that separates this brand from the knockoffs!), although each piece is promised to be made with the best materials and key pieces of equipment for longer, faster rides. The boards are handmade in Mars, where the company runs and operates. Nothing is outsourced or manufactured in separate facilities.
Specifications and Features of the Quest Bamboo Super Cruiser
Deck: 44" Bamboo Longboard
Materials: 7 Ply Super Flex Bamboo and Hardwood Maple
Bearings: ABEC 7 bearings
Trucks: 7" aluminum
What riders love most about this board is its great learning curve for beginners, as well as its adaptability to any standard movements, such as cruising or rolling downhill.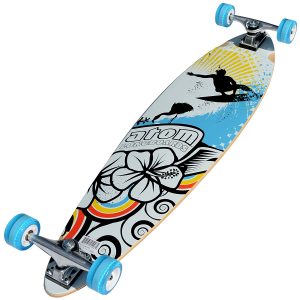 The Atom Pin-Tail longboard has more of an artsy vibe to it, making it a great choice for cruising along the beach or going for a leisurely travel over long distances. It is designed in a pintail shape, bringing a retro feel to it. The shape of the tail makes it ideal for cruising – be sure to look out for this shape on other boards as well, especially if long-distance cruising is your main thing!
Atom Longboards is another brand that offers some originality to their pieces, providing for a fun and easy introduction to longboarding. These boards also make it possible for you to transition from skateboarding to longboarding, as the deck shape and feel mimics that of a traditional board.
Between the authentic build of the pieces and the classic shape of the deck, this is a great board for beginners and passionate cruisers alike. You can achieve a nice, smooth skate with no wheel bite, which is one of the biggest dangers to beginners. The wheels have a very high rebound capability, making them great for all-terrain use. The laminate deck comes standard, but there are plenty of art choices to make your ride as original as possible.
Specifications and Features of the Atom Pin-Tail Longboard
Dimensions: 39" L x 9.4" W x 6" H)
Deck: 39" Laminate Longboard
Materials: Maple Wood, Griptape top
Bearings: ABEC 5 bearings
Trucks:5" aluminum trucks
Wheels: 78A urethane wheels
This board features a variety of colorful designs on the underside of the deck to trick out your ride. Longboarding is all about standing out from the crowd, and you can achieve this using a sporty board in a classic style. This helps you get used to the movement habits of the longboard as well, with plenty of room between the wheels and the deck for forgiveness if you end up eating concrete.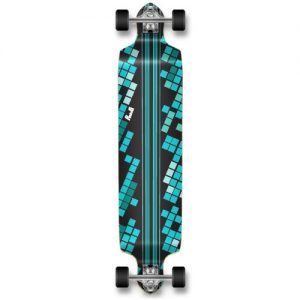 Yocaher may be a familiar name if you've been around the longboarding block a few times. If it's new to you, that's okay too! You'll soon come to learn that this is one of the best and most consistent brands for all types of longboarding needs, from beginners to professionals and everything in between.
This specific board is a powerhouse for big drops and downhill speeds. If you're looking to gain some serious spins on your wheels, this is a great board to invest in. While it is slightly more expensive than the previous two boards mentioned, it makes up for the cost with its valuable material makeup and downhill longevity.
This Yocaher model is built by professionals and for professionals, making it a good choice for you if you've had a couple years of longboarding experience under your belt. If you are a beginner, this is still a great choice for learning how to adapt to speeds – especially if you're an adventurous one.
Thankfully, the board comes fully assembled, with over 20 different art and design styles to choose from. You can have a classic wooden look, or you can go with one of the many vinyl pattern options to brighten your board and get great compliments from your friends and peers.
Specifications and Features of the Yocaher Professional Speed Drop Down Stained Complete Longboard
Dimensions: 25" x 9"
Deck: Black Widow Premium Grade 80A Griptape
Materials: Griptape, Aluminum Alloy, Maple
Bearings: ABEC 7 chrome bearings
Trucks: HD7 heavy duty trucks
Wheels: 33" base, 9-ply maple, concave shape
Keep in mind that the difference between this board and a board made for beginners is the fact that the deck sits lower to the center of the trucks. This completely changes the center of gravity that you may experience while cruising downhill. Try it out on smaller hills first, before doing a stunt that will grant you some major speeds.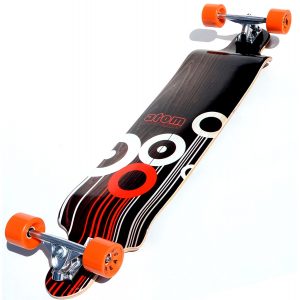 Another Atom creation, this longboard is designed with a "drop deck" shape to help you gain major speeds when cruising downhill.
You may be wondering about all the downhill boards featured in this guide.
That's because going downhill is not only one of the most popular uses of the longboard, but also one of the skills that requires the best in quality and efficiency. Otherwise, you are prone to hurting yourself too often than it's worth.
This board is one of the pricier items on the longboard market, but still comes in under $100, making it easy on any kind of budget. The deck is seated ultra-low, centering it near the trucks to give an earthier sense of gravity. This is an ideal design for stability and control.
Having a low-sitting deck is one of the most important things to look for when buying a longboard, especially one that's going to be used downhill a lot. This gives you the best ability to carve downhill without losing control or posture during your ride. Atom has figured out how to design the board in a unique way that will give you the quick turns and fast speeds that you want without experiencing wheel bites or snags. All in all, it's the ideal board for skaters of all styles.
Specifications and Features of the Atom Drop Deck Longboard
Dimensions: 63" x 4.72" x 41.73"
Deck: 41" Full Maple Laminate
Materials: Maple, urethane, lubricant
Bearings: ABEC 9 with high-speed lubricating qualities
Trucks: Reverse kingpin style, with 245mm axles
Wheels: 70x51mm urethane wheels with super high rebound (SHR) qualities and a wide lip to prevent bite
This deck will literally help you get down to earth, with its low-sitting deck and reverse kingpin design for better stability. It provides a lot of advantages for beginners and pros alike, and the authentic structure of the materials guarantees long-time use.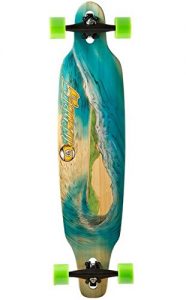 One of the best boards for beginners, the Sector 9 Blue Wave is built with everything that a longboard enthusiast could ever dream of. It can last for many thorough years, with stable wheels and a balanced deck that offers support and a unique shape. It is pricier than most, but well worth the value.
If you're looking for something that can help you get accustomed to your personal style, this board will surely do the trick. It's great for going downhill, cruising, and getting in some major carves and turns.
We included this in our top 5 longboard picks to give you a chance for a little breathing room. You don't have to stress or worry about the pressure of choosing a specific longboard setup; instead, you can purchase a valuable board that gives you the tools and builds necessary to try out a little bit of everything. Plus, it's a great board to help transition you from a beginner status into something more experienced. There are plenty of opportunities for technical trials here!
Specifications and Features of the Sector 9 Blue Wave Lookout Complete Longboard
Dimensions: 6" x 42"
Deck: 42" -Ply Bamboo, vertically laminated
Materials: Bamboo, laminations, steel, camber mold
Bearings: ABEC 5 PDP bearings with hardened steel bolts, measuring at 1.5" each
Trucks: 9" Gullwing Charger trucks (one of the most sought-after materials in the longboard industry!)
Wheels: 74mm 78A Center Set Nineball wheels
Many travelers like to use this kind of longboard for traveling, and it is a reliable piece for getting to work and back. You can also use it to go downhill, to achieve some sharp carves, or to try out new tricks.
This board will carry you through your learning curves for many years, with one of the strongest combinations of grip tape and fortified bearings to make sure that nothing ever runs off-kilter.
What to Look for Before You Buy
Choosing the best pieces for your longboard all depends on your preferred setup. Typically, there are three types of setups that skaters will go for: Cruising, Freeriding, or Downhill. These three styles can vary in skill level, with beginners typically going for a cruise build while seasoned veterans will go for ultimate downhill speeds.
Having a setup in mind is a good place to start when buying a board, but it's not necessarily a requirement. You can still get by with a great board before you know what style suits you best. And hey, you never know until you try, right? Even if you have something in mind beforehand, actually trying it out on a board can change the way your preferences work.
That's part of the fun!
Remember:
The most important feature to look for in a longboard – and for any moving piece of equipment, really – is to make sure that the materials and parts are safe and high-quality. Since a longboard is a mobile piece of equipment, and you must rely on your balance to maintain a safe ride, it's essential to find pieces that can sustain you trust and offer you a leisurely time without sending you to the hospital.
Some of the key components of safety to look out for is mainly with the wheels, trucks, ball bearings, and center of gravity on the deck. From the examples above, you can see that some decks sit lower than others. This is okay, as long as you know what you're looking for.
Don't invest in something that is labeled for advanced skaters only, unless you have the experience to back it up.
If you're just getting started, look for a higher-sitting deck with plenty of room for errors. Wheels with wide lips can prevent you from experiencing nasty wheel bites, and reverse kingpin trucks can offer you more mobility and flexibility when trying out new cruising styles.
Where Should You Start?
Now that your head is full of exciting new information, you may be eager to rush to any online or in-person longboard store. Get out your notebook and write down your list of parts to check, like the wheels and trucks. Draw out your preferred deck build, and make a list of materials that you think would offer the best stability and support.
Don't be afraid to ask a professional about the safest pieces of equipment available. You don't want to skimp out on a cheaper board for fear of losing money; otherwise, you can end up seriously hurting yourself. Just take your time, shop around for as long as you need, and remember what to look for when buying a brand-new longboard.
You can start with our buyer's guide to help prepare you for your next purchase. Review the top 5 choices to get accustomed to what people are most excited about in a valuable longboard. Brands like Atom and Yocaher are the best of the best, and you can almost never go wrong with one of their hand-fashioned models.
A longboard is much more than a skateboard with softer wheels. It's a unique mobile tool that can allow you to achieve high distances or speeds with little effort. But, this leisurely lifestyle can't just be achieved with any old material. By investing in the most valuable and high-quality products, you will find a new wooden companion to last you many years.