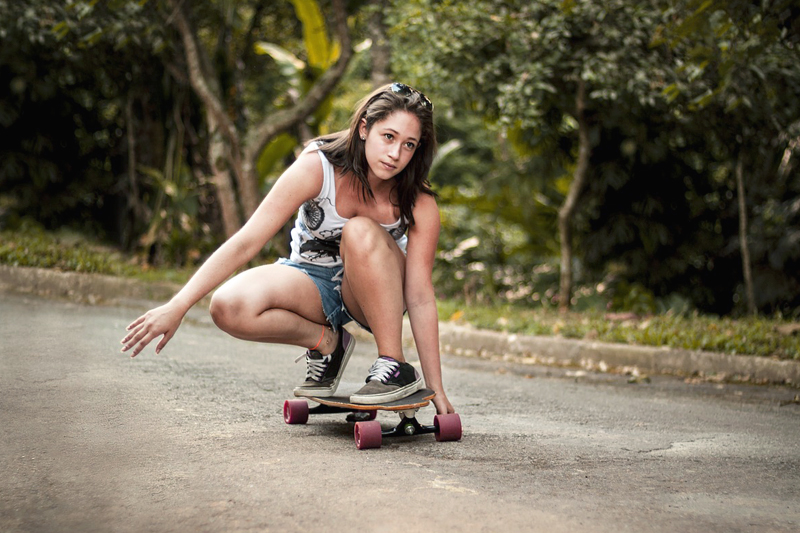 If you've been feeling inspired to pick up a board that fits your specific style, but you're not sure where to start, fear not! We'll break down how to pick the perfect board in our buyers guide, and show you which are our top 5 picks of the best skateboards for girls. We will also be talking about some of the special things to consider such as measurements, and what to look out for.
A Quick Overview Of The Top Girl Skateboards
The main differences to consider when picking out a skateboard is mainly your height and weight. Being a girl doesn't change much from buying a good board, but you want something light that's easy to get in the air, sleek that can turn sharply, and something sturdy that won't break. So let's start with the deck:
Skateboard Decks:
The standard deck size is typically between 28 inches and 33 inches (71cm and 84cm) long . If you're above 5'3'' tall, this is the size you want. So for most of you girls out there, a standard size deck should be good for you. There's still a lot of variation in the standard size. Width, for example, is a key determining factor in foot placement on your board. You'll see 7.75 inches, 8.0 inches, 8.25 inch decks, and even wider when considering longboards. Width matters because when you're doing tricks, you will want a board that sizes up your feet correctly. Otherwise, you won't be able to get the board airborne when you press against the tail.
Length tends to be less important when buying a board. If you happen to visit a local skate shop, try standing on boards of various lengths. You'll notice that the length doesn't change your riding style as much the width does. For someone buying their first board, width is what you should focus first on. Length can change in the future once you have found the width that suits you best.
Choosing The Wheelbase
Another consideration when buying your first skateboard is the wheelbase. Wheelbase determines how far apart you can set the trucks of your board (the axels that hold the wheels). Usually, decks will have a set wheelbase, but some decks have adjustable holes allowing a variety of mounting options. As you get more immersed in the skateboarding culture, you'll find that a lot of the options offered to you as a skater will be designed to make your skate board as comfortable as possible.
The shape of the board will also determine your foot placement, speed, and turning ability. Radial boards are shaped like a U, Progressive boards have slight wings on the rails of the deck, W-Concave boards are shaped like a W, Flatcave boards have very sharp wheels, Asymmetrical boards are raised at different levels, and Convex boards are shaped like an upside down U. Which one should you pick? If you're just starting out, a Radical or a Progressive board will work just fine.
The Perfect Trucks & Wheels
After you choose your deck, you'll need wheels. We recommend a larger wheel (53+ in diameter) with medium hardness so you don't fall. The bigger the wheel, the better it can go over cracks and obstacles. If you're just starting out in skating, don't worry about tricks as much as you worry about staying on your board!
Next, you'll need a set of trucks. The important thing to remember here is that you need to choose a set of trucks that are the same as your board width. If they were wider, they'd go over the rails of your board, and keep you slow. If they're less than the width, they'll send you flying off your board! After that, you'll pick your truck size. Since we recommend you to get medium sized/hardness wheels, we also recommend you get the medium sized trucks.
To make your life easier, below we have chosen our 5 picks of the top skateboards for girls. Once you decide on a board you like, you'll still have choices to make such as design and colors. But if you pick one of these skateboards you're ensured a high quality product that will provide a great skating experience.
Our List Of The Top 5 Skateboards For Girls
#1 – Punisher Cherry Blossom Skateboard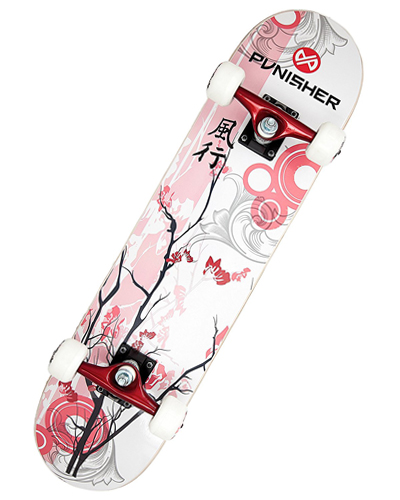 Punisher sets itself apart from other skateboard brands by committing to high-quality, unique designs for every board. Their cherry blossom design itself is very aesthetic and eye-catching. In fact, some of the Punisher designs are directly inspired by classical art styles.
This high quality skateboard uses 7 ply Canadian maple wood for a much sturdier deck. Whether you are a beginner or advanced rider, the unique dual concave deck shape of this model will provide enough strength to hold 200lbs of weight.
With the heavy duty 80AB grip tape Punisher offers, your feet will have the ultimate traction and your control will be improved while skating. Each skateboard manufactured goes through a strict quality control that makes sure each grip tape is evenly adhered and applied.
Specifications:
Deck Length – 31 inches
Wheel Diameter – 54 mm PU Ivory White
Truck Width – 5 inches
#2 – Alana Smith Skateboard by Hoopla

Created by Cara-Beth Burnside and Mimi Knoop, Hoopla was founded with the mission statement of getting women more interested, and represented in the sport skateboarding. The company sponsors an all girls team and holds girls-only skating events to help cultivate a broader appreciation of the sport. Hoopla is based in California which is also where they manufacture their boards, and have some of the best women skateboarders signed to their team.
Their boards are always top of the line, and the Alana Smith Wolf model is no exception. Made with 7 layers of hard rock maple, this is one sturdy deck that will be tough break. Every deck is also laminated with the brand's proprietary, low-stress airlam presses, giving the skateboard a very unique feel.
Overall this is a great board for the younger skaters, thanks to its shorter wheelbase and size. The soft bushings found in the trucks and softer wheels will aide younger girls to learn how to properly carve and turn. Compared to other brands that come with regular trucks and bushings, this board comes equipped with the perfect setup for the younger riders out there.
Specifications:
Deck Length – 28.65 inches
Wheel Diameter – 53 mm
Truck Width – 7.5 inches
#3 – Punisher Butterfly Jive Skateboard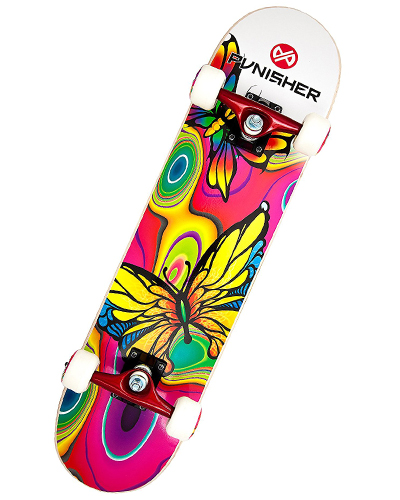 Another great skate board by Punisher is the Butterfly Jive design. This 31.5 inch board comes fully assembled and ready to use out of the box. Similar to the Cherry Blossom model, you get a 7-ply Canadian Maple constructed deck with a double kick concave shape. The heavy duty metallic red trucks are 5 inches in size; strong enough to support adult riders as well.
This skateboard uses the second best available bearings which are the ABEC-7. The PU cast wheels are ideal for pavement roads or skate park surfaces. The beautiful butterfly design is intricately printed and protected with layers of gloss to ensure the deck artwork stays as intact as possible.
Overall, these are ideal for those who are beginner/intermediate skaters looking for a high quality board and a great looking design. This skateboard in particular is normally recommended for children ages 8+.
Specifications:
Deck Length – 31.5 inches
Wheel Diameter – 54 mm
Truck Width – 5 inches
#4 – Kryptonics Drop-In Series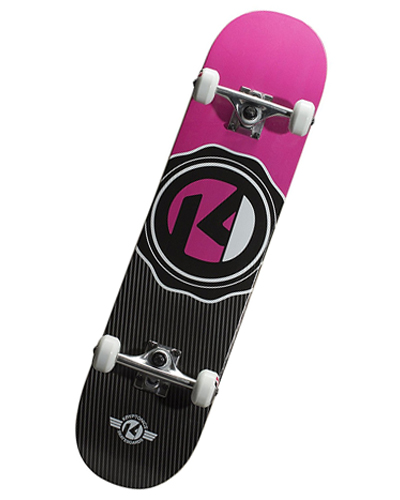 Kryptonics is a well recognized skateboard brand that has been in the game for quite some time now. Founded over 50 years ago, Kryptonics was one of the first brands to introduce a new set of plyurethane wheels that drastically changed the skateboarding scenario. Kryptonics now offers a wide range of options including wheels, longboards, cruisers, penny boards and more.
The Drop-In Series features a complete 31 inch skateboard with a thick 9-ply maple wood deck and a rounded edge design. For those looking for something less bumpy, this board is sure to deliver a smooth ride thanks to its polyurethane injected wheels and carbon steel ABEC-3 bearings. Additionally, the heavy duty 5 inch aluminum trucks give support to a much heavier weight than normal, while still being able to maintain a faster speed. With the capacity of supporting up to 220 lbs. of weight, this board can be suitable for both young riders and adults alike.
If you are looking for a quality board that is both affordable and durable, then we recommend you take a look at this skateboard. The price is very accessible compared to other brands, and a great choice for anyone looking to get into the action sport of skateboarding.
Specifications:
Deck Length – 31 inches
Wheel Diameter – 52 mm
Truck Width – 5 inches
#5 – Rimable Complete 22″ Skateboard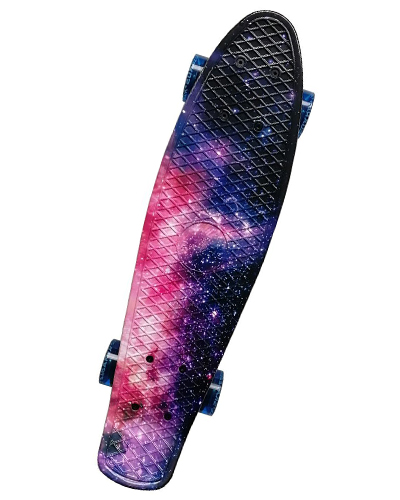 While mini cruisers might not be considered as a standard skateboard, these are a great option for smaller children that might have difficulties riding a full sized skateboard.
Coming down at just 22 inches long, these mini cruisers are a smooth and easy ride for anyone. Due to their small size and weight they are easy to carry around, store in backpacks, or even be used as a form of transportation to replace walking. The best part about these cruisers is the fact that you can choose from a wide variety of colors and designs.
It features a set of high speed bearings and smooth PU bearings. Due to its larger wheel size, these mini cruisers do tend to pickup higher speeds than regular skateboards. Overall, if you have smaller children who are excited to start skateboarding, then a mini cruiser may be a good introduction to the sport. 
Specifications:
Deck Length – 22 inches
Wheel Diameter – 60 mm
Truck Width – 3 inches
Conclusion
There's never been a better time than right now to start learning how to skateboard. Whether you are a novice or an intermediate rider, there is a wide arrange of girl skateboards to choose from. You will also find women pro-teams, women owned skating companies like Hoopla, and lots of other skater girls making a big wave in this action sport. If you are looking for inspiration, you can visit: girlsskatenetwork.com and watch some of their videos that are sure to inspire you.
When deciding on your next purchase, you don't need to worry too much about your deck differing from the ones boy skaters use. If your feet are smaller, simply get a smaller deck, and outfit it with medium wheels and medium trucks while you learn the ropes. Don't get too attached to your board, as eventually it will wear out—but picking your first board is key to dropping in and starting to have fun with the hobby. Have any questions or would like to share your comments with us? Let us know!