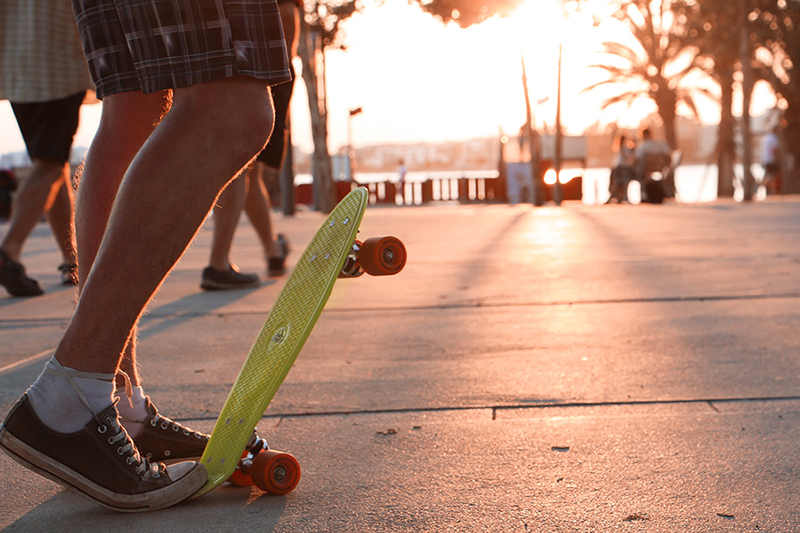 If you're a skateboard enthusiast like I am or at the very least know someone that is, theres a pretty good chance you have heard or used a penny board before. Penny boards have been around for quite a while and have gotten wildly popular among skaters and non-skaters alike.
"Penny Skateboards" is an Australian company that was established in 2010 by Ben MacKay. Named after his sister, Penny is a registered trademark for skateboards but because of their popularity, the name was soon being used to describe all types of small plastic skateboards. They're composed of different parts, all made separately and can be bought fully assembled or as a kit for you to build. The best penny boards will always be lightweight but very strong as well; in fact, genuine ones are almost indestructible. And they come in the three different sizes; 22 inches, the slightly longer 27-inch and the longboard, or 36-inch.
While there has been a resurgence in penny boards, they're definitely not new. Like everything cool, they go back to the 70s when the former Venice Beach lifeguard Larry Stevenson, created the first plastic skateboards, and in the 1990s when a whole lot of brands popped up including Globe, Krooked Skateboards and Stereo Skateboards. But they're back and all the cool kids have them or want them.
With almost a cult-like following, they're as much of an accessory as they are a means of transport. They fit into backpacks, lockers, under the arm, and pretty much any small space where a typical skateboard wouldn't fit. If you are unsure of which one could be the best option for you, below we have researched and reviewed the top 5 penny boards.
The 5 Best Penny Boards We Recommend
What To Look For When Purchasing A Pennyboard
Sizes
Penny boards are available in various sizes including the 22", the 27" and the 36" longboard. Each of these has their own benefits with the 22-inch board built for speed and the 36-inch for performing tricks for example.
A 22″ Penny Skateboard would be good for you if:
You like getting around faster then you will want the 22-inch board. It's easy to maneuver and small enough to put in your backpack or carry underarm. It's definitely suited to the more experienced skater because of its speed but it's also a good size for younger penny skateboarders. This is also the original size and it's as popular as ever.
A 27″ Penny Skateboard is for you if:
You're into collecting the newest editions and designs, and if you like a little more board under your feet. The 27-inch, or The Nickel, is like having the best of the shorter board and the longboard: it's perfect for newcomers, those that are feeling a little more confident with their tricks, and skaters who prefer a slightly bigger board. It has the same cool features as the 22" but more stable, giving you a smooth ride.
The 36″ Penny Longboard is ideal if:
You like cruising the streets or coasting along the boardwalk. The newest member of the penny board family, the 36" longboard has larger wheels and reverse kingpin trucks that make for an easy ride. It's perfect for beginners as well as more experienced riders who want to just coast along. For extra strength and flexibility, the plastic has been reformulated and while it has a wider and longer deck you can still pick up some speed downhill or travel at your own pace.
The Deck
The deck is the platform or the board that you stand on. There are loads of designs to choose from but we think the classic waffle top is still the best. The non-slip surface offers better control and grip for riders to ride, glide or perform tricks with ease and confidence.
The Components
If you're new to the world of penny boards you'll soon realize they are not all created equal. Because you can buy the parts separately you need to make sure you get the best you can afford. Go for high-quality components that'll last longer.
The Material
So we know that the better penny boards are made of a stiff, but flexible plastic that is almost indestructible.  While they do cost a little more, be aware that cheaper boards are probably made from cheaper materials which means they may not last long at all. The old adage remains true: you get what you pay for.
Our Top 5 Penny Boards
Penny Cruiser Complete Skateboard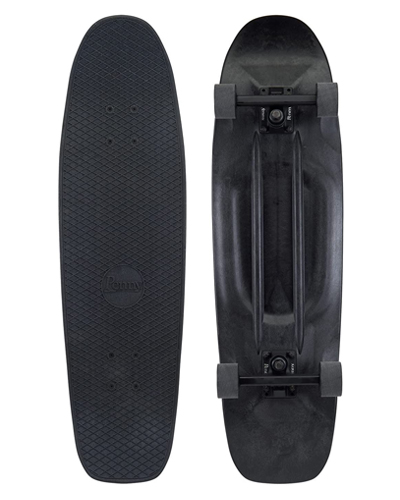 The Penny Complete Skateboard is like having a VIP or backstage pass to the coolest band ever! It's great for beginners because of the soft wheels that literally glide over bumpy roads and any other obstacles, and advanced skateboarders love the retro design. I also like the pink, but hey that's just me.
Penny, the company, has managed to combine a quality product with exceptional customer service that keeps customers loyal and coming back for more. The Penny Graphic Complete is without a doubt one of the best selling boards; their attention to detail and exceptional customer care is what sets them apart from other brands and keeps. Whether you're getting it for yourself, or as a gift for someone else, it's a good sized board to learn on and the smooth wheels make it easy to control and suitable for long distances. If you feel the need for a bit more speed and even longer coasting just oil the bearings, otherwise leave it as is.
Available in the coolest color combinations, the Penny Complete is designed for you to easily ride and 'catch and carry' and they fit into a bag or locker for easy storage and convenience. In our opinion, it's a no-brainer.
Penny Nickel 27″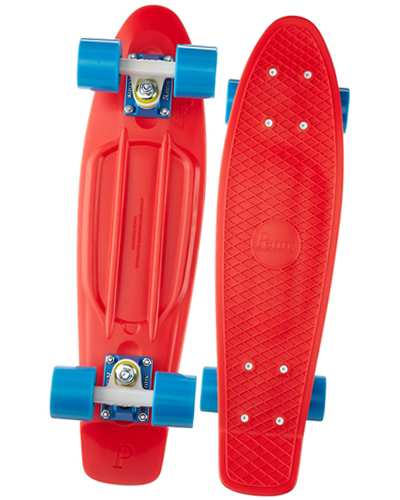 It's hard to write about penny boards and not feature the original. The Penny Nickel Complete gives you that authentic cruising experience combined with style, quality, and an instant retro feel.
As with all the penny boards, there are so many colors and styles to choose from, from way-out-there Neo Tokyo and Red Metallic limited edition, to the more classic Rasta and Blackout. The Penny Nickel is 27-inches long with nickel trucks and there is no assembly necessary. Whether you're a student getting around campus or a teen tearing up the streets, this penny board is suited for everyone.
It's lightweight and easy to carry, and while it only weighs 5.5 pounds its strong molded plastic board and well-constructed body will ensure your money is well spent.
Skatro Mini Cruiser Skateboard

The Skatro Mini Cruiser comes in at around about half of the price of the original Penny and they've managed to manufacture a board that is sturdy, trendy and made with quality components. The Skatro is well-designed, the wheels are easy to maneuver and it's lightweight for the youngest of skaters to carry around with them. If you're looking for the best cheap penny board on the market, this may be the one for you.
What they have gotten right is the manufacturing process that ensures optimal flex on every Skatro board. It is exclusive to them and has earned them the title of the smoothest mini cruiser on the market.
If you're anything like me and love the combination of dark & plated colors, then you should take a look at their retro style cruiser with limited edition gold aluminum trucks. Skatro has made a few of these available so if you want to get your hands on one these check it out here.
Kryptonics Original Torpedo

Kryptonics has earned itself a good reputation in a fairly short amount of time, and their Original Torpedo model is one of their best-selling boards. The 22.5-inch cruisers stays true to the iconic 1970s penny board shape in terms of design but they have upped the scale, increasing the size of the board and using better quality components.
Kryptonics Skateboards use high impact material and a flex deck with grip pattern. On the rear of the cruiser you also get a grip tape for stability and better traction. It can support a weight of up to 110lbs, which makes it better suited for children ages 8 or older.
One of my favorite things about this model in particular, is that you can choose from 3 unique designs that look awesome and the color combinations match perfectly. You can choose either Black Pineapple, Bright Tropics, or the super cute Sky-Cats design.
Cal 7 Mini Cruiser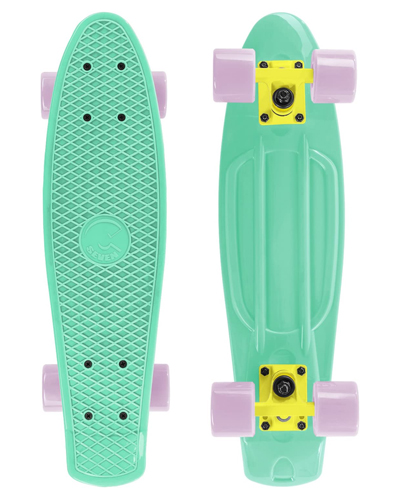 This is a great compact sized penny board that is perfect for beginners. The Cal 7 Mini Cruiser comes fully assembled and ready to use the moment you receive it; no need for tools or messing with parts. The easy carving from this penny board means that you will be able to easily take on tight turns and maneuver corners with little difficulty.
The Cal 7 makes our list because it is a quality skateboard for both kids and adults who are learning the basics. It has a strong waffle-grip deck for extra stability, and the 3.1-inch aluminum alloy trucks with super smooth wheels will give you a bump-free ride. While we know it isn't as strong as an original Penny, we can tell you the deck is strong and flexible enough to handle serious wear, tear, and weight.
It is also cheaper than most of the other popular brands so if you're buying it for someone who is learning or new to penny boards it won't hurt your pocket as much.
Which Penny Skateboards Do You Prefer?
There you have it, our top 5 penny board reviews. And while you might be thinking it may be a passing fad, I think the trend is only starting and young people like me will continue to love our penny boards.
Deceptively simple, the design of the penny board is all about being flexible, light and yet incredibly strong and robust. They're compact enough for you to pick up and carry and you can toss them in a bag or a locker.
Penny boards have made quite the comeback, and have become popular in cities and towns where traffic is a mare and road rage fuels everyone. They are designed for cruising the streets, maneuvering in and out of traffic, carefully of course. And if you are experienced enough, perhaps a few tricks, riding up onto kerbs and getting around obstacles will prove to be a breeze with the right board.
We foresee penny boards being around for a while. They take us back to a time where cut-off jean shorts ruled and Chuck Taylors were the order of the day. They will continue to be fun for us, our future kids and anyone out there who would like to get into the sport. They make being outdoors fun and keeps our bodies constantly in an active state.
We hope this article has been of help in your buying decision to pick out the best penny board for you. For more information you can learn more about penny boards here.