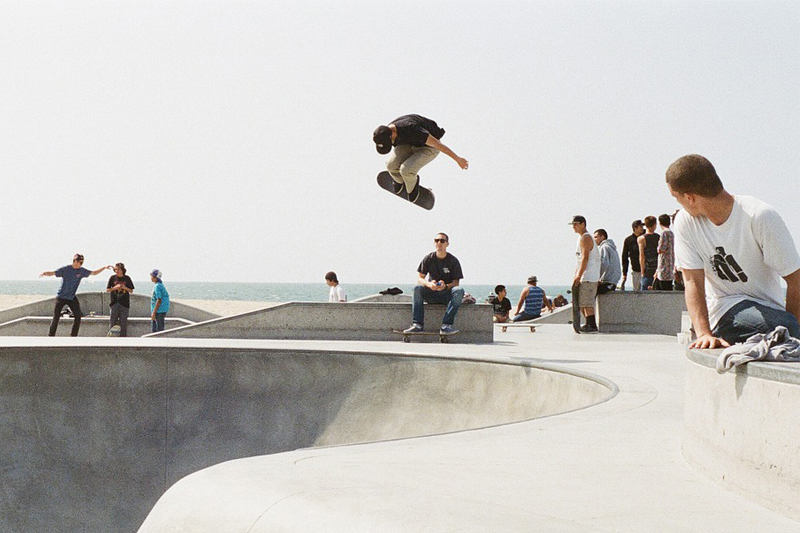 One of the most common and most severe injuries in skateboarding often involves the wrist. That's because the hands and arms are always extended to break a fall, and the wrist is the only part of the body that takes the brunt of the impact. Skateboard wrist guards are essential pieces of protective gear in skateboarding. They offer shock absorption during impact and protect the wrists from injury. However, to realize the benefits of these guards, you have to get the right ones that will offer maximum protection.
In this post, we will look into some of the factors that you should consider when picking out the best skateboard wrist guards. Below we will also give you our top 5 favorites, based on our product testing research:
A Quick Overview
When choosing the best wrist guards for skateboarding, you need to take into consideration the size and material of the product. Some have fixed sizes such as small, medium, large, and extra large while others are adjustable and can fit most hand widths. The material also matters as guards can be made from plastic, metal, or braces.
Plastic is lightweight and flexible, but it may allow more deflection during impact

Metal is sturdy, but it is not flexible

Braces or pads are adjustable and will offer support to the wrist during impact
Braces and plastic guards are the most suitable for skateboarding. You can choose wrist guards that have one or both of these materials for maximum support and protection.
Wrist Guards vs. Palm Guards
Wrist guards are meant to protect both the hand and wrist during impact. However, palm guards only protect the palm. The size of the gear does not offer any support to the joint between the hand and the forearm. As a result, you can easily suffer a wrist fracture when breaking a fall. Therefore when buying, specify the kind of gear that you want. You can use both a wrist guard and palm guard. But the palm guard alone will not protect the wrist.
Sizing Your Wrist Guards
Proper sizing is essential when buying wrist guards. If you choose guards that are too small, you will struggle to wear them. They may even make your hand uncomfortable when skating. If the guards are too large, they won't fit properly, and they can slide off when you need them most. If you don't know your size, look at the measurement specifications and measure your hand. Alternatively, you can buy an adjustable guard that can fit different wrist sizes.
Wrist Guard Wearing Tips
To avoid forearm injuries, ensure that you do not tighten the back of your guards too much. If you do this, the forearm could get fractured just above the guard. Avoid such injuries by ensuring that the guard is not too tight and your forearm feels a little loose and comfortable.
There are Left and Right guards. Check the labeling on the guards so that you can wear them on the correct side. Additionally when wearing guards, the rounder part should ALWAYS be underneath. If it comes on top, it means that the guard is meant for the other hand. Choosing the right skating wrist guards from the wide variety of options on the market can be overwhelming. But we have compiled a list of what we think are the top skateboarding wrist guards on the market today. Check them out, choose your pick based on the size and personal preference, and enjoy a safe and thrilling skating experience.
Our Best Skateboard Wrist Guards Picks:
#1 – JBM International Protective Guards
These protective guards from JBM International come as a set of three: wrist guards, elbow pads, and knee pads. The guards offer maximum protection to the elbows, knees, and wrists when skating, and they can be used for other sports that require protective gear as well.
The guards are available in a wide variety of sizes for adults, youth, and kids. They come with adjustable straps to accommodate various wrist sizes. JBM International guards have a soft padded material that absorbs shock and protects users during a fall.
Specifications
Sizes:
Adults: 9.5 inches – 13.5 inches

Youth and Kids: 6 inches- 9 inches
Material:
Polyester, PP plastic, and PE foam
#2 – 187 Killer Wrist Guards
187 Killer wrist guards come in large sizes and are adaptable for many wearers. The guards are suitable for individuals looking for a balance between comfort and protection. They feature an ergonomic design that ensures maximum comfort with a great fit.
187 Killer wrist guards are double-stitched with heavy-duty ballistic nylon thread which improves the lifespan of the gear. The guards are ideal for both beginner and expert skateboarders and can be used for protection in many similar sports such as scooter riding, penny boarding, roller skating, and bicycling.
Specifications
Sizes: Large 7.5″ – 9"
Material: PP plastic, PE foam, and ballistic nylon
#3 – Triple 8 Saver Series Wristsavers
The Triple 8 Saver Series wrist guards are particularly suitable for professional skateboarders. The ruggedly durable wrist guards offer high levels of safety, great resistance, and maximum protection when performing daring long boarding moves.
They feature shock-absorbing EVA foam that's secured between support splints and wrist to offer additional protection to the wrist. Triple 8 Saver Series guards come in a variety of sizes to suit different individuals.
Specifications
Sizes:
Junior: 7-7.5 inches

Small: 7.5-8 inches

Medium: 8-9 inches

Large: 9-10 inches
Material: Polyester, PP plastic, and PE foam
#4 – Pro-Tec Street Wrist Guards
Pro-Tec Street wrist guards are a popular choice among skateboarders. The guards' main pro is the ability to offer maximum protection to the wrist, especially if you have suffered a fracture in the past. They are ergonomically designed to provide maximum support and comfort to users.
They are available in a variety of sizes for users of any age group. Pro-Tec wrist guards are made of high-quality, durable, and wear resistant material that will serve you for a long time. The guards are also perforated, and allow the skin to breathe nicely. Whether you are a beginner or expert, these guards are suitable for an enhanced skateboarding experience.
Specifications
Sizes: small, medium, large, and youth
Material: Polyester, PE foam, PP plastic
#5 – Hillbilly Wrist Guard Gloves- Half Finger
Are you looking for wrist guards that will allow you to carry out other activities without taking the gloves off? If so, the Hillbilly wrist guard gloves are the ideal option. These guards are half-finger gloves which allow you to go about other activities without removing your guards.
They are built to resist strong impact during skateboarding. The gloves are carefully designed to provide maximum wrist and palm protection. They are made with durable goatskin that can withstand use for an extended period. The guards are also double stitched with durable heavy duty nylon thread.
Specifications
Sizes: small, medium, large, XL
Material: nylon, goatskin
Conclusion
Skateboarding is a fun and thrilling sport that you can undertake for fun or competitive purposes. Unfortunately, wrist fractures can send you packing for months and stop you from enjoying this sport. Whether you are a beginner or expert skateboarder, you need protective gear to safeguard your wrists from impact and unnecessary injuries during a fall.
Wrist guards are your best defense against wrist fractures when skateboarding. However, you need the right gear that will offer maximum protection, support, and shock absorption.
Go through our list of the best skate wrist guards and choose your preferred one based on features and your budget. But don't forget to get the right size. If you are not sure, go for adjustable wrist guards that can accommodate various wrist sizes. Finally, choose quality over price. If you skateboard frequently, you need quality guards that will offer maximum protection and last a long time.