If you're looking to build a durable, efficient, and one-of-a-kind longboard, having the best truck available is an absolute necessity. There are a variety of longboard trucks on the market, and it's important to know that different truck types can drastically change the way your longboard functions. When taking a glance at the diverse Internet market, it can be overwhelming to be met with a long list of longboard trucks. It's often difficult to narrow down the best options and decide on which make and model will work best for your preferred skating style.
In this guide, we'll review the top three longboard trucks on the market, all of which can be purchased through Amazon for quick delivery and top performance. This will give you a better idea of what you can expect from the top longboard truck choices, as well as the variety of looks and builds available. These top three longboards are a great glimpse into today's longboard market. Following our product recommendations, you will find an essential buying guide that will provide you with the best tips and tricks of the trade. Our buying guide is designed to help you find exactly what you need in a longboard truck. This review is dedicated to helping you identify the most important characteristics of a longboard truck, how to find a good longboard truck, and how their shape and functionality affect their place on the market.
The Top Three Best Longboard Trucks
Our top three picks on the market include trucks that offer a diverse range of flexibility, affordability, and performance. Check out the specs and recommendations of each truck to see which one fits your style and your budget the most.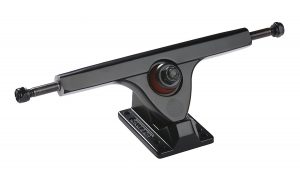 Ten Inch Hangar has always been one of the top dogs in the longboard industry, and the company's products always deliver on precision and performance. This is truer than ever with the Caliber Trucks II, which are built to accommodate the ultimate skateboard. If you or a friend are familiar with the CALIBER TRUCKS I model, the new CALIBER TRUCKS II trucks are 40% stronger and more durable in every way than their predecessor. This reinforces the board and provides more support while still being flexible enough to allow you to gain the sharpest turns.
Passionate skateboarders love this truck the most due to the unique angle it provides. It allows for the most extreme turns, giving you a full range of movement and plenty of room to try out new tricks and spaces. It is one of the most, if not the most, highest-rated truck set on the market today. When checking out some of the specs and features, it's easy to see why:
The company has developed a new technique to make the trucks far stronger without sacrificing room for movement.
Its features allow it to be the best all-around product for a variety of different skateboarding needs.
The truck and its kit provide the ability to configure it in hundreds of different ways so that you can achieve the style that fits you the most.
The kit comes in a set of two, with over 10 color variations available.
When buying this truck set on Amazon, you will receive a pair of two trucks. Keep in mind that longboards and some other skateboards require two trucks, rather than just one. This set is not only efficient and super-strong, but affordable as well. The price may vary depending on color scheme, but you're looking at well under $100 for a pair of trucks. That's a fair price to pay for the best all-around performance on the market!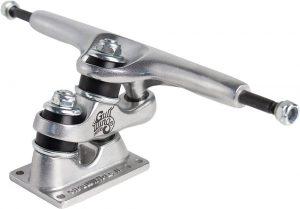 Gullwing has been producing longboard trucks for four decades, making them a reliable and trustworthy brand for beginners and skating pros alike. They know their way around a longboard, which is why they always try to make the most innovative and efficient designs on the market.
Another great choice for extreme performance and fluid movement, the Gullwing Sidewinder II Trucks have some of the sleekest designs on the market. Many avid users of this product have likened it to the feeling of surfing or snowboarding – that's how smooth of a ride these trucks will grant you. This is one of the best options available for those who are interested in achieving some major carving. If you want to get the most out of your turns and flexible movements, this is a great choice for that skating style. Some other features of this new Gullwing Sidewinder model include:
A patented design improves upon the build of the trucks by adding a double kingpin carving style, allowing for both durability and extreme movement.
The base plate is customizable, allowing for an endless array of design options.
It is built to be a smooth ride, emulating a surfboard feel as you glide across the pavement as if you're on the water.
These flexible pieces come in a standard and a traditional style, making them compatible even with old-school boards and mounts.
These trucks are slightly more expensive than the CALIBER TRUCKS II, but offer a wider range of movement and a smoother feel when gliding on your board. If you're interested in making the most extreme curves, this is a flexible item that can fit any kind of board.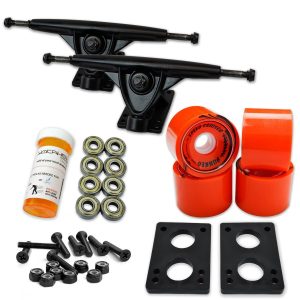 Yocaher is an honest brand that provides safe and durable products for those who are just starting out, or those who are looking to build a longboard completely from scratch. This set includes two durable trucks, four wheels, bearings, and other pieces of hardware to build your own board from scratch.
The reason we included this piece among our top three recommendations is because it is highly affordable and a great option for those who are still finding their passion for longboarding. This kit allows for a variety of average skating styles, giving you the opportunity to gain a feel for what kind of skateboarding you like the most. Since the kit comes with all of the necessary pieces, it's easy for you to make hundreds of customizable options and find the exact design that feels right. The trucks are stable and flexible, letting you try out a few different tricks. Check out some of its other features:
The trucks are built in a reverse-kingpin style, allowing for durable and heavy-duty use. They can also be used for sleek carves and a variety of other skateboarding styles.
Each piece in the kit has been improved to offer more stability and support for the average skater.
The trucks are designed to increase the distance between the wheels and the deck, which can prevent wheel bites or nicks while boarding.
The grip is stable, giving you flexibility to try out the styles you desire the most.
This longboard truck set and additional kit is an affordable market option, allowing you to save room in your wallet while still acquiring a product that won't fall apart on you. If you're just starting out, or you are unsure of your preferred style, check out the YOCAHER LONGBOARD TRUCKS COMBO SET for a good place to begin.
Longboard Trucks Buying Guide
There are some essential features that you'll want to look out for when buying your first set of longboard trucks. The best trucks on the market are determined using a rubric of affordability, function, flexibility, durability, and reliability – we'll help you identify when you're in the clear, and when you aren't.
The first tip to deciding upon the right set of trucks for you is to determine the correct longboard truck size. Different sizes accommodate different types of boards, and offer different skating styles. A general rule of thumb is:
The hanger width should match the deck width.
High truck baseplate angles make for sharper turns, while lower truck baseplate angles are more rigid and cannot lean as smoothly.
Typically, 50-degree angles are best for carving and long rides, while lower angles such as 44-degrees can give you an advantage when skating downhill.
The next factor to consider is the type of kingpin build that comes with the truck. The two most common kingpin builds include the traditional kingpin and the reverse kingpin. With a traditional kingpin, the kingpins face each other, and offer solid support without giving much breadth for turning. Reverse kingpins are often the more popular choice, in which the kingpins face away from each other. This provides for much more flexibility, granting you sharper turns and smoother cruising capabilities. Reverse kingpin trucks are often much more customizable as well, allowing you to shift the angle of the baseplate and achieve a unique fit.
Lastly, you'll want to consider whether or not you want to flip the truck hanger. This is a term frequently used by skaters and longboard enthusiasts alike. You can essentially flip the hanger of the truck so that it faces the opposite direction. This is used for the purpose of increasing the stability of your board, while also offering more lean resistance. If you want to experiment with a lower center of gravity, which many skaters prefer during long rides, you may want to go ahead with a hanger flip. When buying longboard trucks online, make sure you have the opportunity to customize and reverse parts of the truck as you please.
Practice Makes Perfect
There are a lot of skateboarding styles and preferences out there. And for each unique style choice and skating design, there are sets of trucks on the market to match it. When looking for a solid pair of longboard trucks online, keep in mind what you want to get out of them the most. Are you just starting out and building your first board? If so, try something that is good for an all-around feel without being too extreme on the carves. If you already have your mind set on smooth cruising and sharp turns, you can find something on the market that uses a reverse kingpin style and gives you the best grip for the turns you want.
Familiarize yourself with our top three recommended options, and see how well the community has responded to them. Try a pair out for yourself, and get a feel for your new board. It's important to have the best in quality, durability, grip, and performance. Don't settle for anything less!