Flip is a skate brand owned by skaters that makes gear for people who are serious about the sport. Skaters choose Flip for vert, street and cruising decks. They even make little flyers that are fun for just messing around. Flip decks have the look of heavy metal music, with the iconic Flip logo with an iron cross dotting the "i." The decks skate hardcore: they're durable, long-lasting, and made for pros in mind. The art on Flip decks is always eye-popping, but more importantly the decks are always ground-popping. This is why so many vert skaters choose to skate Flip.
Geoff Rowley is one of the skaters that built the Flip brand and he's been an established name in skating since the 1990s. He left the company in 2015, but his influence is still present in the Flip aesthetic. Bob Bernquist is another Flip rider—he's a vert skating legend. David Gonzalez is another skater for Flip: he's a hot up-and-comer who was named Thrasher's Skater of the Year in 2012. Flip's team always has an eye for talent and that's why some of the best skaters in the industry skate Flip.
Maybe you're curious about Flip because of their excellent skate videos. The Sorry Trilogy (Sorry, Really Sorry, Extremely Sorry) are three classics in the skate video genre. If you've seen them, you know they exhibit amazing tricks from skaters around the world, both street and vert. They have great soundtracks too. This is something that cinches the Flip brand's reputation for skaters. They always have great taste.
If you want to try and skate a Flip deck, you're in luck. We picked the top three decks for skaters looking to thrash heavy and raw. If you want instant respect when you roll up to the skatepark, get one of these three decks.
FLIP Skateboard Complete HKD BLACK 7.75″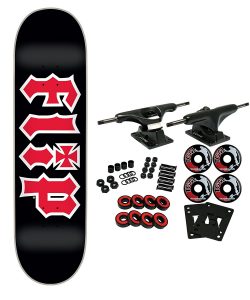 This deck is great because you get everything you need to start skating right out of the box. You get the Flip board with the iconic Flip logo, plus all the needed components including Core Trucks, 52mm TGM Goth Logo Wheels, Amphetamine Abec 5 Bearings, Black Diamond Griptape, 1″ Hardware and 1/8″ risers. This is a 7-Ply Canadian Maple Pro deck, so you know it'll stand up to punishment from riding it fast downhill to grinding rails at the park.
We think of this deck as the Flip starter and if you want a great deck that's easy to ride this is the way to go. Grab this one and you won't be disappointed. This is the perfect deck for vert, street, or just cruising and it has everything you need to shred.
Flip Skateboards Berger Mercenaries Series Pro Skate Board, 31.5 x 8″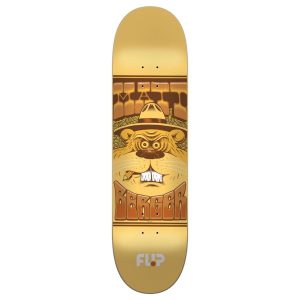 Unlike the other decks on our list, this Matt Berger deck is only the deck itself. It's not a complete set up so you'll have to buy or provide all your own components to get this board street-ready. Once you put your components on though, hold on tight because this is one of the coolest decks Flip's currently manufacturing.
That said, it's a super-solid deck with a funny graphic inspired by the Flip favorite, Matt Berger. Matt's known for his amazing grinding skills. He can do a 50-50 grind better than practically any other pro currently riding. If you want a deck that's great for pulling off tight grinds, then you gotta pick up one of Flip's Matt Berger decks. This one has a funny looking beaver on it. That's pretty cool, right?
Flip Skateboard Odyssey Logo Tie Dye Regular SK8 Completes Skateboard, 7.75″x7.75″x 31.63″, Red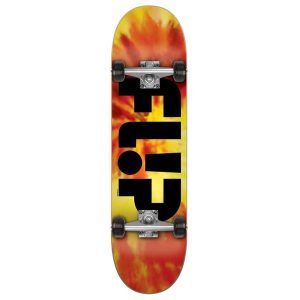 Here's another complete deck for you to buy, ship and skate as soon as the box arrives. This Flip deck has an average graphic, to be honest. It says Flip and there's orange tie-die in the background. So why did we pick it?
Because you won't care about grinding up the graphic when you're skating on this premium hardware. Again, you get all the components needed like Core Trucks, 52mm TGM Goth Logo Wheels, Amphetamine Abec 5 Bearings, Black Diamond Griptape, 1″ Hardware and 1/8″ risers. Plus, you have a deck that can stand up to a ton of punishment. You can ride this deck on the halfpipe or drag it across a hand rail. Flip uses maple Canadian wood to craft some of the strongest, highest quality decks available on the market.
Conclusion
We scoured the online review sites and figured that Flip is a great brand for skaters who are really serious about skating. It's perfect for beginners and pros alike, but usually people who have experience at the sport say that Flip is their deck of choice, the one they'll keep coming back to for years.
We mentioned two great deals on complete decks in our list. These making buying your board super easy. You can upgrade components if you want—maybe get some higher-quality wheels on your deck—but if you just want to start skating as soon as possible. Then there's Matt Berger's deck which is our pick for the best deck on the list. This is such a stylish deck and you'll be able to pull off grinds you never thought possible with the high quality wood and balance of this deck.
Flip is an integral part to the skating community. They started in England and moved to California in 1994. Since then, they've been a brand that supports tournaments, skaters and videos throughout the globe. Flip's team is one of the best respected in the sport and all of its skaters have graced the covers of Transworld, Trasher and Berrics numerous times. That's because Flip makes a deck that has a special appeal for the serious skater.