The Penny Board sensation has made a lasting impact on the skating industry as a whole. These boards are brand new to the market, but they are already making headlines thanks to their numerous positive reviews that can be read on skating comparison sites and shopping networks.
What people like most about the range of penny boards is how easy and safe they are to ride. Although accidents and wipe outs could be considered to be part of skating culture, they do present some obvious health risks, especially for children and young adults.
But thanks to the new range of penny boards on offer that come in a variety of different colors, sizes, and designs, parents can buy these boards for their children with a feeling of security. Everything from the design of the deck, trucks, to the board itself has been optimized for the rider's stability in mind.
Yet for those who want to push their comfort zones a little and take their boards out during night time, there are some glow in the dark penny boards available for purchase. One such board that we'll be having a look at today is the Classic Casper 22" glow in the dark penny board.
What is the Casper 22" Glow in the dark penny board?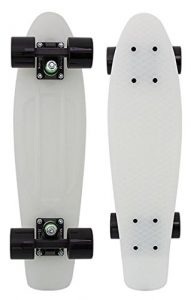 The Casper glow in the dark penny board is an updated version of the company's original design. This time the board has an irrefutably evil night time look with all black aesthetics. Penny Skateboards says that their Casper model is one of their best-sellers, which is thanks to the board being powered from UV radiation in the hottest time of day and glowing green at night.
Penny's Classic 22" glow in the dark casper was designed to please the skater in every way, thus providing a truly comprehensive skating experience. The board is so fun to use in fact that it can be a little addictive.
The board utilizes an award-winning plastic design with a glow through the use of gentle chemicals. The result is that the deck claims to have just the right amount of stability and flex for tearing up the pavement any time of day.
If looks are your thing when it comes to skating gear, then you'll be pleased to learn that the Casper has specter white appearance in the day and glows alien green at night.
Wheels and bearings
The Casper glow dark penny board has black 59mm 83A wheels that perfectly complement the other colors of the board. Each wheel and bearing is made from high quality materials, which are guaranteed to give you a smooth ride over even the toughest of surfaces.
Speaking of bearings, the Casper features white and black Abec 7s. Abecs are widely considered to be the gold standard when it comes to keeping your wheels fluid and turning.
Trucks and Cushions
The board has black powder coated trucks to further enhance the board's ghastly appearance, along with black 83A cushions. The aluminum materials used on the board means that it's guaranteed to not bend, break, or split in two while you're using it. You'll also find that the board is stable enough to keep your balanced when going over rough terrain or speeding down hills.
The trucks are light while still providing unparalleled strength and stability. The adjustable cushions means you can customize your board to suit your riding style with ease.
Bolts
Each 22 inch Casper Penny Board comes with black tensile deck bolts to complete your kit while adding an extra level of stability and peace of mind.
Summary
Here's a list of all the features of the glow in the dark Casper Penny Board.
22" long
Non-slip deck
Abec 7 stainless steel bearings
Color-coded tensile bolts
3 inch aluminium truck
59mm 83A wheels for distraction-free rides
83A color-coded cushions
Lifetime warranty
Conclusion
The glow in the dark Casper Penny Board could be your ideal option if you're looking for something cool and safe to ride around on at night time. It comes with virtually everything you could want from a high quality penny board and more.
The cool glow in the dark feature means you can impress your friends while still keeping yourself safe whilst performing the most difficult of tricks and flashy maneuvers. The Casper still looks great in the daytime, although it's main strength is carving it up like a demon when the day becomes night.
You should definitely have a closer look at the Casper if you're in the market for a glow in the dark penny board, as it has little downsides and has earned itself a wealth of positive reviews.