Penny Boards are continuously getting popular from little kids to adults who wanted to try out skateboarding. Skateboards are either being used for casual street carving or by doing acrobatic stunts with the board. As time goes by, various innovations came that greatly changes the way regular skateboards are. The Penny and Nickel Board design became a new type of skateboard since it has a huge difference if compared to the standard skateboards.
Penny Boards
Nevertheless, these plastic deck boards sure are trendy for both beginner and amateurs alike. However, with the original Penny and Nickel boards being extremely expensive for someone is just starting to do skating, they felt that it isn't worth it in the end. What if they bought the expensive ones then suddenly felt that skateboarding is not for them? Then it is a total waste of money.
I am not against them since they are really for dedicated skaters out there and offers high-end skateboards for a certain amount of price they should pay.
But for starters, why not try out a cheap board that doesn't have much difference with the original Pennys. Here, we have discovered a really cool brand that manufactures Penny-Board-like skateboards called High Bounce Penny Boards available at amazon. Hundreds of testimonies show that it is a good product, but is it really a takeaway for a quality skateboard?
Is High Bounce Penny Board really worth it?
People always have second thoughts on buying cheaper products, since they are wary of the quality in terms of its functionality. But, this High Bounce Board can prove you wrong. Here at Best Skate Gear, we provide a detailed review of the best skateboard that is more than half the price of the original Penny Boards.
It's all in the looks
The High Bounce deck is patterned in vivid and loud colors that everyone would love. It comes with printed design and solid colored ones. Also, it has a waffled deck design for anti-sliding. If these didn't go well with your shoes, then you can always buy grip tapes. Just like the original Pennys, you can find a skateboard that best describes your personality. All complemented with wheels that jives in with the design.
Speed matters
After looking for the design, you should now look at the technical part. This little skates are installed with super smooth Polyurethane wheels that makes the wheels strong and durable even with floor cracks. Also, it comes with an ABEC 7 bearings for easy navigation of the skates. Normally, you'll get your newly shipped skateboard with tightly screwed trunks, which makes it hard to control the skateboard. The solution is to loosen the trunks and feel the super smooth and easy navigation of your High Bounce Penny Board.
Durable enough for up to 180 lbs
Next, you'll have to look if your weight is included in the maximum weight limit. Take note that these colorful Pennys can support a maximum weight of 187 lbs or equivalent to 85 kg. This means that if you are equal to or above 85kg, then this board is not for you since the durable plastic will bend, making it hard to cruise.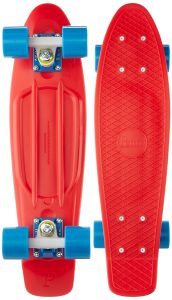 Put it in your backpack
Another good thing about this High Bounce Penny Board is that it is small with lengths 22 inches from nose to tail and measures 4 inches in height. This is in equal size with the Pennys that can be placed inside the bag and very lightweight, making it easy to carry even with the smallest hands. All in all, this durable skates are only below $50. What we can say? People can't stop loving it, as so do we.
What do we think of the High Bounce Penny Board?
The High Bounce brand of these colorful yet quality buy boards are a great alternative to the expensive Pennys. Most especially for those entry level skateboarding, your child can play and have a skateboarding pro feeling. But even professional riders can use this since it is made for everyone. For the price with almost half the original Pennys, the High Bounce Penny Board is really worth the buy.