Shaun White Supply Co. is one of the most popular manufacturers of skateboards – from penny boards to long boards. They create dependable boards that every professional skater will prefer. Among their wide variety of products, one of the best-selling items is the Shaun White Penny Board.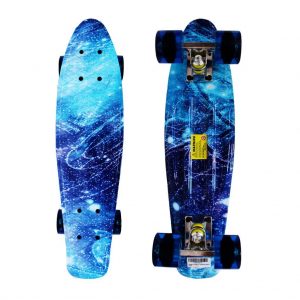 If you are looking for a good penny board that you can use to learn and master tricks, the Shaun White Penny Board is highly recommended by most skateboard reviews and expert skaters. Check out this review for a more in-depth look at the penny board. This will help you make a more informed decision when you finally decide to buy a penny board.
Design
The Shaun White Penny Board comes in a composite design that is pre-built with trucks and bearings. It has a measurement of 22"x 6" and a weight capacity of 180lbs. That is big enough to perform skate tricks easily.
The front side of the board is pointed and tapers to a pinch right on top of the rear trucks. On the other end of the board, you will see a gap right before the tail. It seems to be something that is just meant to add to the design, but it actually has a purpose – to make the tail more visible to the skater and easier to step on.
Looking at the top of the deck, you will see that it is designed with grooves on top. This improves a skater's grip when performing tricks. Below the boars, you can find the wheels and standard bolt and screw holes.
The Shaun White Penny Board comes in a wide variety of colors. The wheels come in different colors, too. No matter what your preference for color is, you will surely find one that you will like at Shaun White Supply Co.
Material
Each board's deck is built from a tough composite plastic material, that's why it will not easily crack even when placed under a heavy weight. It is not very thick and some skaters say that it bends when they stand on it. This is considered a downside because it is harder to perform tricks on a bent board. But thankfully, it does not break.
The materials that compose the parts below the board are also of very high-quality. The trucks are made of aluminum, which means it's resistant to scratches and rust. The penny board also has PU cast wheels with a measurement of 60mm x 49mm.They run on ABEC 5 bearings. These allow the skater to experience a very smooth ride when cruising on cement and other flat surfaces.
If you want to give your penny board an upgrade, you can shop at Shaun White Supply Co. for parts that you can use on your penny board. It is easy to replace the built-in parts and you can do it yourself. This is definitely a big plus for skaters who are fond of personalizing their gear.
Durability
Judging by the high-quality materials that this penny board is made of, you can be sure that the Shaun White Penny Board will last a long time. It won't break easily when placed under a heavy weight or when dropped from a tall height. It is also water resistant and can survive splashes from puddles or drops from the rain.
The Verdict
Given all its features, the Shaun White Penny Board is definitely a good choice for beginners. It may have a few glitches, but these are not things that can drastically affect the performance of the board. At an affordable price of $35 – $40, this item will give you excellent value for your money.